The White Flower Temple is located south of Thais. The NPCs Norf and Edowir can be found here. Norf provides one of the five blessings. The surface of the temple is a Protection Zone, restricting you from engaging in combat. Very dangerous undead can be found under this temple.

If you want to enter the dungeon, you have to go down the stairs and use Pick (Picture 1) or use a Shovel (Picture 2) and run through some minor monsters.
Note that this is not a good place to hunt because there aren't many monsters, but it is a useful place to make Runes, because you can gain Soul Points by killing the creatures down there.
If you go down, you will find a Gate of Expertise for level 25 and up. After the door, there are 2 Ghouls. Down the stairs you will encounter a Banshee. Not good for a fast hunt because the Banshee takes a while to respawn (25 minutes).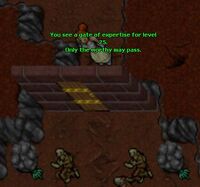 Note: There's another entrance to Banshee's room, through Stalker Cave
Maps
Community content is available under
CC-BY-SA
unless otherwise noted.