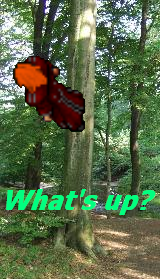 Never forget to sign your post with ~~~~ otherwise I am not able to answer fast.
Feel free to ask me something =)
Xomoda (talk~*~rares) 13:46, 29 May 2009 (UTC)
About the epee... As you can see in this list, it will be lootable: http://foros.tibiavenezuela.com/showthread.php?t=3088 Karlkoninan 17:35, 1 July 2009 (UTC)
---
Hi! I am just wondering if you know anything about the Bullseye Potion Quest. I saw that a while ago you changed the "other creatures" on this page to "some minor" ones, so I figured perhaps you know more about this quest.. The only bullseye quest I have found with similar rewards is the Formorgar Mine Quest, although back when you edited the page, it said Formorgar Glacier (deeper mines), which got me thinking that the quest may not even be in the mines. Anyways, any help is most appreciated, thank you! :) beejay 09:33, April 19, 2010 (UTC)
gosh... if I only knew.. xD I'm not sure right now, I will ask some friends though
Xomoda (talk~*~rares) 12:08, April 19, 2010 (UTC)
I may have come across this quest before but I cannot remember much about it if I have done, pretty sure its a quest but I cannot find out any more information. beejay 11:36, April 22, 2010 (UTC)
If I edit the prices it's because the items value is worth it and people have lowered them to get the items cheap off people that use tibia wiki as reference.—The preceding unsigned comment was added by MultiStriker (talk • contribs). Remember to sign your comments!
I know atleast 2 servers where these prices are correct, so please keep them.
Xomoda (talk~*~rares) 05:48, April 21, 2010 (UTC)
I've now warned him. At first I didn't think the edits were so bad but it looks a lot to me like he is simply changing the prices to get the prices he wants his items to be sold for, it also looks this way for dragon claw. And him ignoring the messages and a price list tells me enough. Thank you for bringing it to my attention! I didn't realise he was simply ignoring the messages and carrying on. :) beejay 11:36, April 22, 2010 (UTC)
Moleman also changed the page for the NPC Angelina. Is the information here correct? doesnt sound like it to me. Just wondering
Rosabelazulia 09:47, May 15, 2010 (UTC)
quastion...
hi there... i would like to know how you put there the template at your userpage... i want something similar but different though... may i use the source code? [| Principe Dracula]
hey =p u undo some of the pages i made, i made them cause either pics were to old or there was something special on that picture..... i really dont care that u removed it.
01:41, June 28, 2010 (UTC)

usually I only undo vandalism or unnecessary edits (like making a gallery smaller than needed or adding dead links)
Xomoda (talk~*~rares) 06:37, June 28, 2010 (UTC)
@ The Spirit Will Get You Quest/Spoiler
Maybe my layout was worse than yours, but I made that change since yours maps made me confused... there was terible mess and you didn't marked everything that was neded. W miki 11:54, July 12, 2010 (UTC)
Community content is available under
CC-BY-SA
unless otherwise noted.