Mammoth Whopper Image
Why do you reupload such a huge version of the image if only a small part is needed? I can reupload the small version again if you like, but that huge version isn't even close to this wiki standards' for item images. --

 Ψ Genosonic Ψ   Ψ  My Contributions Ψ   Ψ  Talk Ψ   21:42, 17 June 2007 (PDT)
---
I'd appreciate it LOL. I could use some pointers on uploading images too 0.o cause apparently I can't do it off paint. Thanks and I appreciate the help! ~ Uno time
paint isn't exactly an appropriate tool for this as it doesn't have a function to make backgrounds invisible.

Craggles
[Random::Chat::Guild::Contributions::Tibicam Profile]
---
Uno, I replied to your question on my talk page.
-- Cave canem.
--  Whitelaces †  Talk †  -- 05:41, 18 June 2007 (PDT)
---
Even if you read Whitelaces' recommendations take a look at the following: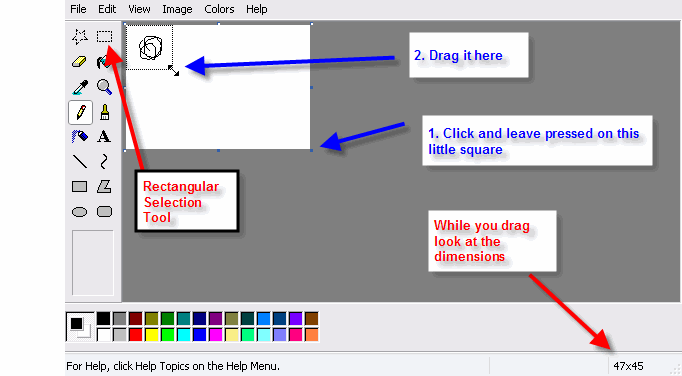 First you need to place the item on the top-left part of the work space, use the Rectangular Selection Tool to select the item and then drag it.
Secondly, you need to reduce the work space (the white and unused space) to a tibiawiki standards size (it depends on the size of what you are working on), like Whitelaces said, 16px, 32px, 48px and so on. To reduce the space:
1. Click on the little square on the bottom-right part of the work space
2. Drag it to the top-left while looking at the dimensions on the right-most part of the status bar and release it when you meet the correct dimensions.
I hope this helps, try it out :D --

 Ψ Genosonic Ψ   Ψ  My Contributions Ψ   Ψ  Talk Ψ   07:59, 18 June 2007 (PDT)
This is the best way to do it with MSpaint, but it still does not make invisible backgrounds. Use MSaint until you become well familiar with it then switch over to Paint.NETs program. MSpaint should be used for screenshot type pictures. Item and Creatures images should be made with a better tool which can make invisible backgrounds and animate the picture. Update time is when it can be "okay" to use paint since the actual new image sprites are not 'supposed' to be available for the public yet. --DM ><((°> Contribs <°))>< talk to me 08:12, 18 June 2007 (PDT)
---
Exactly, I forgot to mention this would only be good for screenshots and general knowledge (although I don't recommend the use of Paint for anything, since images don't come out so nice), almost all graphic design/image editing programs have this resizing ability. You can also download Adobe Photoshop CS3 or previous versions, it's a bit complex but if you play with it and look for tutorials over the internet you can make real fancy images ;)--

 Ψ Genosonic Ψ   Ψ  My Contributions Ψ   Ψ  Talk Ψ   08:29, 18 June 2007 (PDT)
Reverting your image
Just to warn, I've reverted your Royal Spear Image to the one that Hell uploaded, since his image got the transparent background.
--- Zephirdd ---