This page is outdated, I am currently playing this character.
Guild infomration: Blockers of Eternity of the Slayers Of Eternity (From Rags To Riches).
---
My approx current money:


x1


x27

---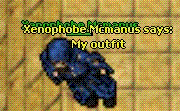 ---
---
Quests i've done:
Rookgaard quests not included.
Banuta Quest - Currently up to Mission 7: Destroying Casks With Red Fluid
Blood Herb Quest
Crusader Helmet Quest
Desert Dungeon Quest
Dragon Tower Quest
Eleonore Quest - Fully completed
Elvenbane Quest
Emperor's Cookies Quest
Explorer Brooch Quest
Fanfare Quest
Forbidden Islands Quest - Note: Does not include voodoomaster bit
Ghoul Room Quest
Iron Hammer Quest
Longsword Quest
Meriana Quest - Currently up to Nargor Tortoise Eggs mission
Noble Armor Quest
Orc Fortress Quest
Panpipe Quest
Paradox Tower Quest - Completed. Picked 10k + 32 talons.
Postman Quest - Completed
Power Ring Quest
Stealth Ring Quest
Steel Helmet Quest
Thais Lighthouse Quest
Voodoodoll Quest
White Pearl Quest

---
Useful pages for my own reference:
Ankrahmun Tombs
Ankrahmun Dragon Lairs

---
Community content is available under
CC-BY-SA
unless otherwise noted.