Kaito Yamaro's Tibiawiki page
---
Hi! I'm Kaito Yamaro. I play since May 2005, my homeworld is Pacera. I'm not powergamer, rather roleplayer. I like range combat very much, so I'm a paladin. I have quite good magic level, because I love magic.

Take a look at my Photobucket album here!
I am also staff member of TibiaML, you can see my page here.
I'm also a senior tutor, feel free to ask me for help :)
---
Character information

Nickname: Kaito Yamaro of Pacera
Gender: male
Vocation: Royal Paladin
Position: Senior Tutor
Guild: Order of the Flaming Phoenix
Level: 76
Magic Level: 19
World: Pacera
Residence: Liberty Bay
House: Trader's Point 2 (Shop), Liberty Bay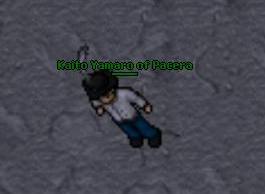 ---
My job as a Community Helper
I like doing my job. I have passed the Tutor Exam on 5th April 2007. I was promoted to Senior Tutor on 7th July 2007. I try to help community best I can. I enjoy helping people on channels or boards more than anything.
I am also an author of the project Pacera Tutor Census.
---
My equipment
---
Addons
---
Skills
Skills are the thing I hate the most. I always had bad skills, and I'm too lazy to have better. At the moment my skills (without counting the paladin armor) are:

Distance Fighting: 83
Shielding: 61
---
Community content is available under
CC-BY-SA
unless otherwise noted.