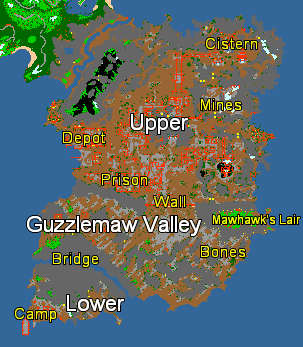 Upper Roshamuul hunting grounds are located north of the wall that divides it from Guzzlemaw Valley. This area is not accessible until the wall is breached (see each Game World for its current stage).
This area is difficult to access and very dangerous so a suggested level is 250+.
The Roshamuul Prison is located west of the wall. The town depot and temple are north-west of the wall. The central mountain is home to Gaz'haragoth and his minions, until he is first killed and then he can only be found in the prison. The eastern area is more mountainous and has an entrance to the Roshamuul Mines. To have easy and permanent access to Upper Roshamuul, become a citizen. You can teleport yourself to the temple in Upper Roshamuul, which is located just west of the depot.
Sights of Surrender are located in an area north of the depot, called Dark Grounds, that only becomes accessible when the server completes the Roshamuul Quest - Soothing Bad Dreams task 20 times. This area opens very rarely compared to Mawhawk's lair because the tasks are not nearly as attractive as the Guzzlemaw Valley tasks.
Community content is available under
CC-BY-SA
unless otherwise noted.