Changes
Vocation Balancing Changes
Poison became part of the new Earth element. New elements Ice, Holy and Death were added.
Druids focus on Earth Damage and Ice Damage, while Sorcerers focus on Fire Damage and Energy Damage.
Paladins now have access to Holy Damage. This damage type is specially effective against undead creatures. They also have new ammunition to deal elemental damage.
Knights can now enchant their weapons to convert a percentage of their physical damage into elemental damage. Their attack spells are also affected by their weapon's elemental damage.
Spell Changes
Wands and Rods Changes
The existing wands and rods were changed, in order to maintain the new element allegiances. Additionally, both vocation gained access to death rods and wands.
New Houses
New Furniture

This update made it possible to buy modification kits for green, red, yellow or the common blue beds. These modification kits work only for beds, so they will be of no use if your house or apartment is furnished with cots, straw mats or hammocks. The new furniture item Trophy Stand was also added with this update.
New Areas
Orc Dungeon north of Thais (broadened tunnels, more creature diversity)
Mt. Sternum Cyclops (broadened tunnels, new decoration elements)
North-west of Mount Sternum (new dungeons, new passageways, new decoration)
A five story Magician Tower just north of Mount Sternum.
Passage to Mintwallin starting at ancient temple (broadenend tunnels, new decoration in many places)
Darashia Rotworm dungeons (structure slightly changed with more entrances and connections, more carrions)
Changes in Gameplay
Party
This update introduced the ability to share experience in a party. The leader of the party now has the option to turn this feature on and off and all party members who contribute to the killing of a monster or healing of party members will get equal experience. Shared experience can only be activated in a party and only by the leader.
Conditions
There are certain conditions that need to be fulfilled for shared experience to work.
level of the lowest character in the party must be at least 2/3 the level of the highest character in the party (that means for example, level 40 and level 60 can still share, level 200 and 300 can also share)
the distance of all party members to the leader must be smaller or equal to 30 fields (yelling distance), also works one floor up and one floor down
all party members must have contributed to the party within the last 2 minutes (healing a party member or attacking an aggressive monster)
States
Shared experience has 3 states:
off: experience is distributed as usual according to damage dealt
on and active: if all conditions are fulfilled, experience will be distributed evenly between all party members (rounded up). If a member does not have enough stamina, his share of the experience will be reduced accordingly, the shares of other party members stay unaffected, Soul Points can only be gained if the individual share of experience gained from one monster is larger than or equal to the level of the character. If a member has summons, those summons will receive their part of the experience before shared experience is calculated.
on but inactive: if one or more conditions are not fulfilled, shared XP will automatically be deactivated until all conditions are fulfilled again. Experience is distributed as usual according to damage dealt.
Every party member can see the state of shared XP on his party icon; it is also displayed who causes shared XP to be inactive. Shared experience only works for experience gained from monsters; on PvP-enforced worlds, experience that is gained from player killing will be distributed as usual according to damage dealt, no matter whether shared XP is active or not.
Swimming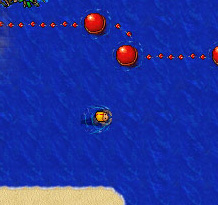 Players are now able to jump in the beach waters. The swimable areas are closed for the safety of the tibians so they can have fun by just wading or playing Waterpolo with other tibians.
New Festivities
New Quests
| Name | Min Level | Rec Level | Prem | Location | Reward |
| --- | --- | --- | --- | --- | --- |
| Against the Spider Cult Quest | 42? | 45 | ✓ | Edron Orc Cave | Terra Amulet |
| Arito's Task Quest | 0 | 20 | ✓ | Ankrahmun and Kha'Zeel | 50 Platinum Coins |
| Brotherhood Outfits Quest | 0 | 40-70+ | ✓ | Plains of Havoc | Brotherhood Outfits and addons, achievement Skull and Bones |
| Into The Bone Pit Quest | 35 | 35 | ✗ | Thais, Ancient Temple | Death Ring |
| Kissing a Pig Quest | 60 | 70 | ✗ | All Free Account Cities, Femor Hills, Ghostlands/Isle of the Kings | 5 Gold Coins, Firlefanz, achievement Passionate Kisser. |
| Koshei the Deathless Quest | 40 | 70+ | ✓ | Darashia | Koshei's Ancient Amulet or Blue Legs (also 50 Platinum Coins, but you will need to sacrifice this exact amount before you can get the reward). |
| Nightmare Outfits Quest | 0 | 40-70+ | ✓ | Plains of Havoc | Nightmare Outfits and addons, achievement Nightmare Walker |
| Nomads Land Quest | 0 | 15 | ✓ | Ankrahmun, Kha'labal | 50 Platinum Coins, Jewel Case (Nomad), The Sacred Casket (Book), 2 Small Sapphires. |
| Rest in Hallowed Ground Quest | 0 | 25+ | ✓ | Edron | 5 Health Potions, 5 Mana Potions |
| Secret Service Quest | 50 | 60+ | ✓ | Begin: Thais, Venore or Carlin. Travel all Tibia. | Mysterious Package, achievements Secret Agent and only one of the following three, Top AVIN Agent, Top CGB Agent, Top TBI Agent. |
| Steal From Thieves Quest | 0 | 20 | ✓ | Ankrahmun | 100 Brown Mushrooms, 100 Gold Coins |
| Strong Potions Quest | 0 | 60 | ✓ | Edron Hero Cave | 5 Strong Mana Potions. |
| The Exterminator Quest | 0 | 20+ | ✗ | Carlin sewers | Small Sapphire, Small Ruby, Small Amethyst, Small Emerald |
| The Travelling Trader Quest | 0 | 50+ | ✓ | Svargrond, Liberty Bay, Port Hope, Ankrahmun, Darashia, Edron and Carlin. Missions also take you to Outlaw Camp, Kazordoon, Ab'Dendriel and the inner parts of Tiquanda. | Ability to trade with Rashid, achievement Recognised Trader. |
| The Ultimate Booze Quest | 0 | 10 | ✗ | Venore, Kazordoon | Light Shovel, 10 Platinum Coins, 100 Experience Points |
| To Appease the Mighty Quest | 30 | 30 | ✓ | Darashia, Ashta'daramai, Mal'ouquah | 20 Platinum Coins |
| To Blind the Enemy Quest | 0 | 50+ | ✗ | Ab'Dendriel | 10 Platinum Coins, Elven Amulet |
| To Outfox a Fox Quest | 0 | 35 | ✗ | Dwarf Mines | Mining Helmet, ability to start the Turmoil of War Task. |
| Tower Defence Quest | 0 | 10+ | ✗ | Carlin, Femor Hills | 50 Shiver Arrows, 50 Earth Arrows, 50 Flaming Arrows, 50 Flash Arrows |
| Waterfall Quest | 0 | 35+ | ✓ | Near Forbidden Lands in Tiquanda | Pirate Backpack, Pirate Hat, Dwarven Ring |
| What a Foolish Quest | 40* | 60+ | ✓ | In and around Thais, Edron, Cormaya, Kazordoon, Carlin, Venore, Port Hope, Liberty Bay, and several other locations | A Jester Staff, a Jester Hat and Jester Outfits and addons, achievements: Allow Cookies?, Perfect Fool and Fool at Heart. |
New Items
New Axe Weapons
| Weapon | Lvl | Atk | Def | Def Mod. | Hands | Resist. | Imb. Slots | Class. | Weight | Attributes | Dropped By |
| --- | --- | --- | --- | --- | --- | --- | --- | --- | --- | --- | --- |
| | 20 | 23 + 5 | 18 | +1 | One | | 0 | 0 | 51.00 | | This item is not dropped by any creatures. |
| | 35 | 34 + 8 | 20 | 0 | Two | | 0 | 0 | 45.00 | | This item is not dropped by any creatures. |
| | 60 | 35 + 9 | 24 | +1 | One | | 0 | 0 | 61.00 | | This item is not dropped by any creatures. |
| | 25 | 27 + 6 | 21 | +1 | One | | 0 | 0 | 59.00 | | This item is not dropped by any creatures. |
| | 65 | 39 + 9 | 10 | 0 | Two | | 0 | 0 | 61.50 | | This item is not dropped by any creatures. |
| | 20 | 23 + 5 | 18 | +1 | One | | 0 | 0 | 51.00 | | This item is not dropped by any creatures. |
| | 35 | 34 + 8 | 20 | 0 | Two | | 0 | 0 | 45.00 | | This item is not dropped by any creatures. |
| | 60 | 35 + 9 | 24 | +1 | One | | 0 | 0 | 61.00 | | This item is not dropped by any creatures. |
| | 25 | 27 + 6 | 21 | +1 | One | | 0 | 0 | 59.00 | | This item is not dropped by any creatures. |
| | 65 | 39 + 9 | 10 | 0 | Two | | 0 | 0 | 61.50 | | This item is not dropped by any creatures. |
| | 20 | 23 + 5 | 18 | +1 | One | | 0 | 0 | 51.00 | | This item is not dropped by any creatures. |
| | 35 | 34 + 8 | 20 | 0 | Two | | 0 | 0 | 45.00 | | This item is not dropped by any creatures. |
| | 60 | 35 + 9 | 24 | +1 | One | | 0 | 0 | 61.00 | | This item is not dropped by any creatures. |
| | 25 | 27 + 6 | 21 | +1 | One | | 0 | 0 | 59.00 | | This item is not dropped by any creatures. |
| | 65 | 39 + 9 | 10 | 0 | Two | | 0 | 0 | 61.50 | | This item is not dropped by any creatures. |
| | 20 | 23 + 5 | 18 | +1 | One | | 0 | 0 | 51.00 | | This item is not dropped by any creatures. |
| | 35 | 34 + 8 | 20 | 0 | Two | | 0 | 0 | 45.00 | | This item is not dropped by any creatures. |
| | 60 | 35 + 9 | 24 | +1 | One | | 0 | 0 | 61.00 | | This item is not dropped by any creatures. |
| | 25 | 27 + 6 | 21 | +1 | One | | 0 | 0 | 59.00 | | This item is not dropped by any creatures. |
| | 65 | 39 + 9 | 10 | 0 | Two | | 0 | 0 | 61.50 | | This item is not dropped by any creatures. |
New Club Weapons
| Weapon | Lvl | Atk | Def | Def Mod. | Hands | Resist. | Imb. Slots | Class. | Weight | Attributes | Dropped By |
| --- | --- | --- | --- | --- | --- | --- | --- | --- | --- | --- | --- |
| | 20 | 23 + 5 | 15 | +1 | One | | 0 | 0 | 58.00 | | This item is not dropped by any creatures. |
| | 60 | 36 + 8 | 20 | -2 | One | | 0 | 0 | 78.00 | | This item is not dropped by any creatures. |
| | 35 | 31 + 7 | 16 | +1 | One | | 0 | 0 | 80.00 | | This item is not dropped by any creatures. |
| | 35 | 35 + 7 | 18 | 0 | Two | | 0 | 0 | 54.00 | | This item is not dropped by any creatures. |
| | 50 | 36 + 9 | 10 | 0 | Two | | 0 | 0 | 85.00 | | This item is not dropped by any creatures. |
| | 20 | 23 + 5 | 15 | +1 | One | | 0 | 0 | 58.00 | | This item is not dropped by any creatures. |
| | 60 | 36 + 8 | 20 | -2 | One | | 0 | 0 | 78.00 | | This item is not dropped by any creatures. |
| | 35 | 31 + 7 | 16 | +1 | One | | 0 | 0 | 80.00 | | This item is not dropped by any creatures. |
| | 35 | 35 + 7 | 18 | 0 | Two | | 0 | 0 | 54.00 | | This item is not dropped by any creatures. |
| | 50 | 36 + 9 | 10 | 0 | Two | | 0 | 0 | 85.00 | | This item is not dropped by any creatures. |
| | 20 | 23 + 5 | 15 | +1 | One | | 0 | 0 | 58.00 | | This item is not dropped by any creatures. |
| | 60 | 36 + 8 | 20 | -2 | One | | 0 | 0 | 78.00 | | This item is not dropped by any creatures. |
| | 35 | 31 + 7 | 16 | +1 | One | | 0 | 0 | 80.00 | | This item is not dropped by any creatures. |
| | 35 | 35 + 7 | 18 | 0 | Two | | 0 | 0 | 54.00 | | This item is not dropped by any creatures. |
| | 50 | 36 + 9 | 10 | 0 | Two | | 0 | 0 | 85.00 | | This item is not dropped by any creatures. |
| | 20 | 23 + 5 | 15 | +1 | One | | 0 | 0 | 58.00 | | This item is not dropped by any creatures. |
| | 60 | 36 + 8 | 20 | -2 | One | | 0 | 0 | 78.00 | | This item is not dropped by any creatures. |
| | 35 | 31 + 7 | 16 | +1 | One | | 0 | 0 | 80.00 | | This item is not dropped by any creatures. |
| | 35 | 35 + 7 | 18 | 0 | Two | | 0 | 0 | 54.00 | | This item is not dropped by any creatures. |
| | 50 | 36 + 9 | 10 | 0 | Two | | 0 | 0 | 85.00 | | This item is not dropped by any creatures. |
New Sword Weapons
| Weapon | Lvl | Atk | Def | Def Mod. | Hands | Resist. | Imb. Slots | Class. | Weight | Attributes | Dropped By |
| --- | --- | --- | --- | --- | --- | --- | --- | --- | --- | --- | --- |
| | 0 | 18 | 10 | 0 | One | | 0 | 1 | 36.00 | | This item is not dropped by any creatures. |
| | 35 | 35 + 7 | 22 | 0 | Two | | 0 | 0 | 59.00 | | This item is not dropped by any creatures. |
| | 45 | 35 + 9 | 28 | 0 | Two | | 0 | 0 | 82.00 | | This item is not dropped by any creatures. |
| | 60 | 36 + 8 | 25 | +2 | One | | 0 | 0 | 35.00 | | This item is not dropped by any creatures. |
| | 50 | 34 + 8 | 24 | +1 | One | | 0 | 0 | 48.00 | | This item is not dropped by any creatures. |
| | 0 | 20 + 4 | 21 | +2 | One | | 0 | 0 | 50.00 | | This item is not dropped by any creatures. |
| | 35 | 35 + 7 | 22 | 0 | Two | | 0 | 0 | 59.00 | | This item is not dropped by any creatures. |
| | 45 | 35 + 9 | 28 | 0 | Two | | 0 | 0 | 82.00 | | This item is not dropped by any creatures. |
| | 60 | 36 + 8 | 25 | +2 | One | | 0 | 0 | 35.00 | | This item is not dropped by any creatures. |
| | 50 | 34 + 8 | 24 | +1 | One | | 0 | 0 | 48.00 | | This item is not dropped by any creatures. |
| | 0 | 24 | 21 | +2 | One | | 0 | 0 | 50.00 | | This item is not dropped by any creatures. |
| | 35 | 35 + 7 | 22 | 0 | Two | | 0 | 0 | 59.00 | | This item is not dropped by any creatures. |
| | 45 | 35 + 9 | 28 | 0 | Two | | 0 | 0 | 82.00 | | This item is not dropped by any creatures. |
| | 60 | 36 + 8 | 25 | +2 | One | | 0 | 0 | 35.00 | | This item is not dropped by any creatures. |
| | 50 | 34 + 8 | 24 | +1 | One | | 0 | 0 | 48.00 | | This item is not dropped by any creatures. |
| | 0 | 20 + 4 | 21 | +2 | One | | 0 | 0 | 50.00 | | This item is not dropped by any creatures. |
| | 35 | 35 + 7 | 22 | 0 | Two | | 0 | 0 | 59.00 | | This item is not dropped by any creatures. |
| | 45 | 35 + 9 | 28 | 0 | Two | | 0 | 0 | 82.00 | | This item is not dropped by any creatures. |
| | 60 | 36 + 8 | 25 | +2 | One | | 0 | 0 | 35.00 | | This item is not dropped by any creatures. |
| | 50 | 34 + 8 | 24 | +1 | One | | 0 | 0 | 48.00 | | This item is not dropped by any creatures. |
| | 0 | 20 + 4 | 21 | +2 | One | | 0 | 0 | 50.00 | | This item is not dropped by any creatures. |
New Ammunition
New Helmets
| Name | | Arm | Weight | Attributes | Resist. | Imb. Slots | Class. | Lvl | Vocation | Dropped By |
| --- | --- | --- | --- | --- | --- | --- | --- | --- | --- | --- |
| Glacier Mask | | 5 | 10.00 | | ice +4%, energy -5% | | 2 | | sorcerers and druids | |
| Jester Hat | | 1 | 10.00 | | | | 2 | | | This item is not dropped by any creatures. |
| Lightning Headband | | 5 | 10.00 | | energy +4%, earth -5% | | 2 | | sorcerers and druids | |
| Magma Monocle | | 5 | 10.00 | | fire +4%, ice -5% | | 2 | | sorcerers and druids | |
| Mining Helmet | | 1 | 7.00 | | | | 1 | | | This item is not dropped by any creatures. |
| Terra Hood | | 5 | 10.00 | | earth +4%, fire -5% | | 2 | | sorcerers and druids | |
New Armors
| Name | | Arm | Weight | Attributes | Resist. | Imb. Slots | Class. | Lvl | Vocation | Dropped By |
| --- | --- | --- | --- | --- | --- | --- | --- | --- | --- | --- |
| Glacier Robe | | 11 | 22.50 | | ice +8%, energy -8% | | 2 | 50 | sorcerers and druids | |
| Lightning Robe | | 11 | 22.50 | | energy +8%, earth -8% | | 2 | 50 | sorcerers and druids | |
| Magma Coat | | 11 | 22.50 | | fire +8%, ice -8% | | 2 | 50 | sorcerers and druids | |
| Terra Mantle | | 11 | 22.50 | | earth +8%, fire -8% | | 2 | 50 | sorcerers and druids | |
New Legs
| Name | | Arm | Weight | Attributes | Resist. | Lvl | Vocation | Dropped By |
| --- | --- | --- | --- | --- | --- | --- | --- | --- |
| Blue Legs | | 8 | 18.00 | | | | | This item is not dropped by any creatures. |
| Glacier Kilt | | 8 | 19.00 | | ice +6%, energy -6% | 40 | sorcerers and druids | |
| Lightning Legs | | 8 | 19.00 | | energy +6%, earth -6% | 40 | sorcerers and druids | |
| Magma Legs | | 8 | 19.00 | | fire +6%, ice -6% | 40 | sorcerers and druids | |
| Terra Legs | | 8 | 19.00 | | earth +6%, fire -6% | 40 | sorcerers and druids | |
New Boots
| Name | | Arm | Weight | Attributes | Resist. | Imb. Slots | Lvl | Vocation | Dropped By |
| --- | --- | --- | --- | --- | --- | --- | --- | --- | --- |
| Glacier Shoes | | 2 | 7.50 | | ice +5%, energy -5% | 1 | 35 | sorcerers and druids | |
| Lightning Boots | | 2 | 7.50 | | energy +5%, earth -5% | 1 | 35 | sorcerers and druids | |
| Magma Boots | | 2 | 7.50 | | fire +5%, ice -5% | 1 | 35 | sorcerers and druids | |
| Terra Boots | | 2 | 7.50 | | earth +5%, fire -5% | 1 | 35 | sorcerers and druids | |
New Runes
Other New Items
New Outfits
| Name | Male Outfit | Male Addons | Female Outfit | Female Addons | Type | Premium |
| --- | --- | --- | --- | --- | --- | --- |
| Jester Outfits | | | | | Quest Outfits | ✓ |
New NPCs
New Creatures
New Bosses
New Objects
Name
Move
Walk
Notes
Beach Chair

✗

✓

Has practically no worth. See also Parasol. Exists in two different colours.
Bed (Green)

✗

✗

This bed looks the same as a combination of a Green Headboard and a Green Footboard that can be bought from Furniture Shopkeeper NPCs to be placed inside Houses and Guildhalls.


Bed (Red)

✗

✗

This bed looks the same as a combination of a Red Headboard and a Red Footboard that can be bought from Furniture Shopkeeper NPCs to be placed inside Houses and Guildhalls.


Bed (Snoring)

✗

✗

Click Here to Show/Hide Spoiler Information

Bed (Yellow)

✗

✗

This bed looks the same as a combination of a Yellow Headboard and a Yellow Footboard that can be bought from Furniture Shopkeeper NPCs to be placed inside Houses and Guildhalls.


Bug Trail

✗

✓

A bunch of bugs up to no good. They look the same as Ant Trails.

Click Here to Show/Hide Spoiler Information

Buoy Line

✗

✗

They separate Swimming areas from the big oceans or mark goals for Water Polo.
Buoy

✗

✗

They usually separate Swimming areas from the big oceans or mark goals for Water Polo.
Cat Basket

✗

✗

Crate (Xodet)

✗

✗

Earth Archway

✗

✓

Earth Archways will teleport premium players with level 30 or higher to one of the two Earth Shrines. This archway can be found along with the other three: Ice, Fire, and Energy.


See also: Holy Shrines

Earth Shrine

✗

✗

Energy Archway

✗

✓

Energy Archways will teleport premium players with level 30 or higher to one of the two Energy Shrines. This archway can be found along with the other three: Ice, Earth, and Fire.


See also: Holy Shrines

Energy Shrine

✗

✗

Fire Archway

✗

✓

Fire Archways will teleport premium players with level 30 or higher to one of the two Fire Shrines. This archway can be found along with the other three: Ice, Earth, and Energy.


See also: Holy Shrines

Fire Shrine

✗

✗

Ice Archway

✗

✓

Ice Archways will teleport premium players with level 30 or higher to one of the two Ice Shrines. This archway can be found along with the other three: Earth, Fire, and Energy.


See also: Holy Shrines

Ice Shrine

✗

✗

Parasol

✗

✗

They have no practical use. Often found among Beach Chairs near beaches which players can swim at.
Sand (Quest)

✗

✓

You have the feeling something lies hidden here...

Click Here to Show/Hide Spoiler Information

Sandstone Pillar (Quest)

✗

✗

There is something odd about this pillar...

Click Here to Show/Hide Spoiler Information

Scrying Ball

✗

✗

These orbs can be used to foretell the future and make one extremely powerful in armed conflicts.
Looks the same as a Crystal Ball, a Crystal Ball (Object), and a Mago Mechanic Core.
Wall Fountain

✗

✗
New Spells
| Name | | Words | Prem | Level | Mana | Price | Group | Effect |
| --- | --- | --- | --- | --- | --- | --- | --- | --- |
| Avalanche | | adori mas frigo | ✗ | 30 | 530 | 1,200 | Support | Makes 4 Avalanche Runes (requiring 1 Blank Rune). Shoots an Ice attack that covers a large circular area centered around the target, this is the Druids' equivalent of the Great Fireball. |
| Death Strike | | exori mort | ✓ | 16 | 20 | 800 | Attack | Shoots a death missile at the selected target up to 3 square meters away. If no target is selected, the damage is focused on the single square right in front of the caster. |
| Divine Caldera | | exevo mas san | ✓ | 50 | 160 | 3,000 | Attack | Calls down a rain of holy fire to purify the area around the caster, dealing holy damage in a radius of 3 squares. |
| Divine Healing | | exura san | ✗ | 35 | 160 | 3,000 | Healing | Restores a great amount of health to the target. This spell when used will also cure paralysis. |
| Divine Missile | | exori san | ✓ | 40 | 20 | 1,800 | Attack | Blasts the selected target with divine energy, dealing holy damage. If no target is selected, the damage is focused on the single square right in front of the caster. |
| Eternal Winter | | exevo gran mas frigo | ✓ | 60 | 1050 | 8,000 | Attack | Summons a raging blizzard, dealing extremely high ice damage on a total of 64 squares around the caster. The spell deals about 5-10% more damage than Wrath of Nature, but its area of effect is smaller. |
| Hell's Core | | exevo gran mas flam | ✓ | 60 | 1100 | 8,000 | Attack | Causes a devastating explosion of flames, dealing extremely high fire damage on a total of 73 squares around the caster. The spell deals about 5-10% more damage than Rage of the Skies, but its area of effect is smaller. |
| Ice Strike | | exori frigo | ✓ | 15 | 20 | 800 | Attack | Shoots an ice missile at the selected target up to 3 square meters away. If no target is selected, the damage is focused on the single square right in front of the caster. |
| Ice Wave | | exevo frigo hur | ✗ | 18 | 25 | 850 | Attack | Shoots an area attack directly in front of the caster, dealing ice damage. |
| Icicle | | adori frigo | ✓ | 28 | 460 | 1,700 | Support | Makes 5 Icicle Runes (requiring 1 Blank Rune). Shoots an Ice attack, this is the Druids' equivalent of the Fireball. |
| Rage of the Skies | | exevo gran mas vis | ✓ | 55 | 600 | 6,000 | Attack | Invokes an immense lightning storm, dealing extremely high energy damage on a total of 85 squares around the caster. The spell deals about 5-10% less damage than Hell's Core, but its area of effect is larger. |
| Stalagmite | | adori tera | ✗ | 24 | 350 | 1,400 | Support | Makes 10 Stalagmite Runes (requiring 1 Blank Rune). Sends out an earth missile (like HMM), it deals Earth Damage. |
| Stone Shower | | adori mas tera | ✓ | 28 | 430 | 1,100 | Support | Makes 4 Stone Shower Runes (requiring 1 Blank Rune). Shoots an earth attack that covers a large circular area around the target, this is the Druids' equivalent of the Thunderstorm. |
| Terra Strike | | exori tera | ✓ | 13 | 20 | 800 | Attack | Shoots an earth missile at the selected target up to 3 square meters away. If no target is selected, the damage is focused on the single square right in front of the caster. |
| Terra Wave | | exevo tera hur | ✗ | 38 | 170 | 2,500 | Attack | Shoots a powerful area attack directly in front of the caster, dealing strong earth damage. |
| Thunderstorm | | adori mas vis | ✓ | 28 | 430 | 1,100 | Support | Makes 4 Thunderstorm Runes (requiring 1 Blank Rune). Shoots an energy attack that covers a large area around the target, this is the Sorcerers' equivalent of the Stone Shower. |
| Wound Cleansing | | exura ico | ✗ | 8 | 40 | 0 | Healing | Restores a small amount of health. |
| Wrath of Nature | | exevo gran mas tera | ✓ | 55 | 700 | 6,000 | Attack | Calls forth a huge mass of poisonous vines to strangle enemies, dealing extremely high earth damage on a total of 101 squares around the caster. The spell deals about 5-10% less damage than Eternal Winter, but its area of effect is larger. |
New Houses
New Hunting Places
New Documents
New Effects
New Missiles