Walking faster with arrow keys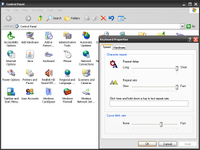 Are you tired of walking-stopping-walking-stopping? If your level is higher than 60 you might have this problem. This is how you can fix it (for windows):

First click on Start.
Then click on Control Panel.
Now open the Keyboard preferences. Here you will see two slide bars, one is for delay of repetition and the other is for speed of repetition.
Change Delay of repetition to "short" and Speed of repetition to "fast".
Click "accept".
From now on you can walk as fast as map clicking WITH YOUR KEYBOARD!!!
Enjoy ;)
Note: Your other keys will also react faster/with less delay now, e.g. backspacing a text will go way faster. This can be seen as a negative side-effect.