TibiaWiki Contest: Create a Creature (September 2010)
TibiaWiki is an encyclopedia where you can find a lot of information. New items, creatures, objects, books etc. can be found after they are added to the game, when CipSoft launches an update. Wouldn't it be a lot of fun to try this yourself? Now is your chance! Create a new creature and participate in this contest. Create an account, take a look at our example (to get a general idea what of is expected) and let your creativity amaze us. Do not miss your chance to win a Heavily Bound Book and more!
Submissions can be viewed:
Connected thread on tibia.com can be seen here. The finals chosen by the TibiaWiki admins can be seen at TibiaWiki:Contests/Create a Creature/Finals. The winners chosen by the CMs can be seen at TibiaWiki:Contests/Create a Creature/Winners.
Guidelines/Rules
This contest will start on September 1, 2010 and will end on the last day of September, you can only submit your submissions during this time.
There is no limit in how many submissions you can make, but only one of them can get a prize.
Please note that CipSoft will not implement the winning creature in-game.
Your creature must have a name which does not include inappropriate language. If the name is not in English, add an explanation.
Your creature must have an amount of hitpoints and experience points, you can think of these numbers yourself. It might help to compare with other similar creatures.
Your creature must have a creature class. You can look at existing creatures or make up a completely new breed and class!
Your creature must have abilities, unless it is not an aggressive creature (like a Deer).
If your creature is immune to certain damage types you can add it, but it is not necessary.
If your creature is strong or weak to certain damage types you can add it, but this is optional too.
Your creature must have at least one sound with a maximum of ten sounds, unless the creature has no mouth, no sound is required then.
The behavior, if it runs in low health, can be added but is optional.
Your creature must have some notes. You can explain the background of the creature here and/or other things which need explanation, like the name or the image.
Your creature must have at least one location, in the current tibia map. If you can't think of any location where it would fit in you can leave it blank.
Your creature must have a strategy. You can keep this small or get very detailed and even divide it into different vocations.
Your creature must have loot. The minimum amount is one item and the maximum amount is 20 items. You can make up your own items but please explain what they are in the notes (no weight, image etc., just what it is).
Your creature must have an image. This does not have to be like a usual image, but can be almost anything. You can draw it by hand and scan it in, make it in paint, color or black/white, small or big etc. If you have just made an account you won't be able to upload image directly so please upload it to either TibiaPic, Imageshack etc. and post a link below your submission. Note: you must make your own image, otherwise your submission won't be accepted!
Judging/Prizes
All submissions will be judged on three points:
The creativity of the idea/name
The image
The features of the creature you made up (abilities, behavior, loot etc.)
Please note that because of the huge amount of submissions the 10 finals will be 15 finals and the 3 winners will be 6 winners. (November 27, 2010).
Your submissions will first be judged by TibiaWiki Administrators until the 15 best remain. From those last 15 our beloved Community Managers will choose the 6 best. Please note that TibiaWiki Administrators are excluded from participating.
There will be six prizes.
Items of choice are: 1 Rune Emblem of choice
(3x), or 10 Mastermind, Bullseye or Berserk Potions

(2x), or 5 Rings of choice (Axe Ring
, Club Ring

, Sword Ring

, Dwarven Ring

, Energy Ring
, Life Ring
, Power Ring

, Time Ring

, Stealth Ring

, Ring of Healing

)
The 1st place winner has the first choice, then the 2nd place winner chooses from the five remaining items, then the 3rd place winner chooses from the four remaining items, then the 4th place winner chooses from the three remaining items, then the 5th place winner chooses from the two remaining items and the 6th place winner gets the last remaining item.
Example
Elf Airborne


350 Hit points
225 Experience points per kill

Abilities:
Arrows (0-150), Tornado (0-80).
Pushable:
Push Objects:
Est. Max. Damage:
230 hp per turn
Immune To:

Ice

, Invisibility
Strong To:

Holy

(

-10%

),

Earth

(

-15%

),

Drown

(

-20%

)
Neutral To:

Physical

,

Energy

,

Life Drain

Weak To:

Death

(

+20%

),

Fire

(

+10%

)
Sounds:

"You won't escape my swift arrows!", "I fly faster than a dragon on my dragonfly".

Behavior:
Elf Airbornes fly around you, keeping a distance. They flee in red hp.
Field Notes:
This dangerous Elf flies on a dragonfly and is a strong opponent. It does both physical damage with its sharp arrows and magical damage (ice) when throwing a tornado. It drops the rare Wind Cloak which is enchanted and protects you from strong wind attacks.
Location:
Shadowthorn, Zao Steppe.
Strategy:
Kill them as fast as possible from a distance. Not a very good creature for a knight to kill, since it will lure you into bigger groups of monsters when trying to kill it in close combat.
Loot:
0-50 gp, 0-30 Arrow, 0-15 Shiver Arrow, Grape, Sandals, Bow (semi-rare), Elvish Talisman (semi-rare), Heaven Blossom (rare), Time Ring (rare), Wind Cloak (rare).
See also: Creatures.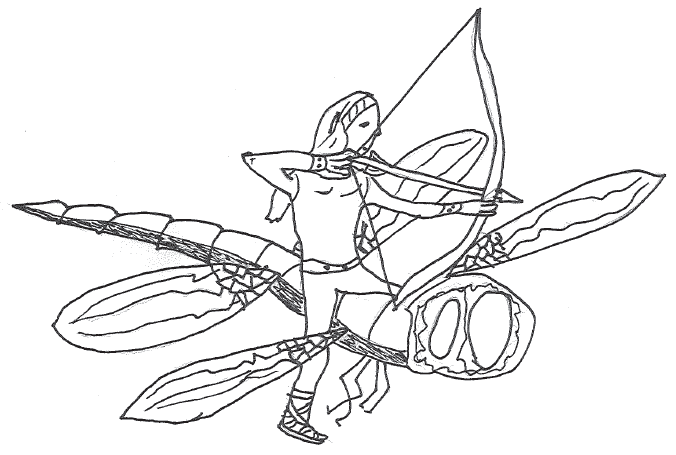 Submit
The contest has ended, you can't submit new entries anymore.
Community content is available under
CC-BY-SA
unless otherwise noted.