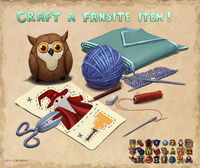 In order to celebrate the Fansite Appreciation Day, the promoted and supported fansites have decided to host a contest together for the whole Tibian community! As a part of this contest, your task is to craft a fansite item in real life. Here are the details.
See also:
How to Participate
Craft a fansite item of any active, promoted or supported fansite in real life from any materials you wish. You can see all fansite items you may craft on the image below.
Take one or more pictures of what you have crafted, including a label containing your character name and the current date.
Submit it until April 18th, 2021, 23:59 CEST (pay attention to the timezone!).
Submission
In order to submit your entry you must have a FANDOM account. You can also use your Facebook, Google or Twitch accounts. If you haven't ever logged into FANDOM, the following video might be useful for you.
To post your submission, press the button bellow while logged into your account. Please, replace "Character Name" by your character name, and "Game World" by your character's game world. Include your picture link(s) on the page you will be redirected to, then hit Save Page.
Submissions are now closed! View them
here
.
Choosing Winners
All of the entries will be forwarded to the internal fansite board for voting. Fansite admins and Community Managers will pick and vote on their favorite entries from all the submitted pictures until April 25, 2021. The winning entries will be announced on the week of April 26.
Prizes
Place
Prizes
1st
2nd
3rd
4th
5th
Rules
Participants may post as many submissions as they want. However, they are only eligible for one prize.
Attempts to plagiarize or reuse crafts from previous contests will result in disqualification of the participant.