This page will list submissions of the 10th Anniversary Lottery. All submissions will get a status which is either accepted or rejected. If your status is rejected, you will get a message on your talk page which explains how you can improve it to get accepted. Due to the large amount of submissions, accepted submissions will be archived from time to time. To view the archives, visit:
Submission by Angus Macleod (talk) (status: rejected)
Tibia is my life and my spiritual guide TibiaWiki! Tibia and TibiaWiki the perfect party!
Submission by EgonTheKnight (talk) Sigurd Fafnesbane (status: rejected)
Happy 10th anniversary, TibiaWiki!
If you've got a question, Tibia Wikia got the answer! Tibia Wikia is the greatest website to assist the players of the quest fill'd game Tibia. Without Tibia Wikia the rookies of this game would have big chance of making it in a nice way, it's always rough for some to play this game, but with the information and devoting help from Tibia Wikia there is a big chance that it will get easier, with all the answers for each dark and mysterious dungeon or quest, creature drop and even detailed information about every item in-game.
I'm not trying to say that Tibia WIkia is only for the newcommers, but also for the elders, old experienced Tibian players, everyone forgets, right? ;), If you've forgotten the location or name of any npc you need to sell a specific loot/item, Tibia Wikia is there for you, items needed for quests/mounts/outfits, you name it!
From my own experience I've been using Tibia Wikia for as long as it has existed, It has always been helpful in all ways, And even if my friends ask me how to do certain quests or obtain certain items, I've usually just linked them the website tibia.wikia.com, and they've always got around it, without any problems. What makes Tibia Wikia so special is that the information is so detailed and explained perfectly, the people in the community is devoted to this, and so is the makers/managers, there is no doubt about that.
One fun fact is that I've never registered on the webpage intill now(Reason is that I've used the webpage for it's information/help and etc) I havent tried to win any of the great contests that has been upon Tibia Wikia, and I surely regret, It's just I've never won a thing in my life and Tibia-Related winnings, was no thought on my mind, since it seemed to good to be true for me to win any contest. But this contest really popped up, I'm appliying late since it's been really on my mind, but this is my chance to really say what I think about this incredible community!
I can not say more, cause I would bore you out with thousands of other meanings why this is the greatest and will remain the greatest help and community in the past and in the present. Without this wikia the experience of tibia wouldn't be the same, It simply puts the fine touch to it!.
That's all I have to say, Sorry if my english isn't that good, but I really love Tibia Wikia, and I wish the best for it and it's future days. I take advantage of everything Tibia Wikia gives me, and I wish I was able to contribute more that I am doing. Anyway wish you the best.
Kind Regards.
Sigurd Fafnesbane (world: Astera)
Submission by Relsiegpk (talk) (status: accepted)
TibiaWiki is important to my gaming experience by checking some loot, where I can sell items I don't remember, and lots of more things. I do even check where I can hunt if I'm bored by checking all monsters listed in a table.
Once I was editing a post of TibiaWiki and some minutes later someone edited my edit(...) and it ended up becoming friends, since we played on the same world :D
Querentos, Nerana.
Submission by Psykeeh (talk) (status: accepted)
Once upon a time, There was a brave soldier trying to explore, She needed to clear her mind, So she find TibiaWiki that's for sure.
Many things to find,Quests and  researching, Many friends were helped, With the brave TibiaWiki Information.
The funniest thing in Tibia is the friendship you make there, the hours you waste playing with who is important, and for me that really loves quest, itens, exploring, I can only thank for the information, effort and everything on the website, thanks to that I definitely spend a lot of hours being the TibiaWiki for my friends.
*Congratulations on your 10th year anniversary*
Shiel Gary * Shivera
Submission by Yamatera (talk) (status: accepted)
I would recommend the use of TibiaWiki as sources of knowledge about the game Tibia.
The compendium of knowledge has helped me many times with difficult to finish quest.
This page is very precise and effective; it contains a lot of informations that can not be found on other pages.
I as a player increased my skills and my level has become high.
Many thanks to the Team TibiaWiki.
Happy 10th anniversary, TibiaWiki!
Pit Ek , Harmonia
Submission by Greatelf (talk) (status: accepted)
Hail TibiaWiki
i think this page is one of the most importante information source for all tibians who speak english and even for those who don't speak english (like my friends) who use translators as the best information for everything in tibia is in this wikia.
if not by tibia wiki i could have never reach Demona as the ENORMOUS MAZE that is on the way is pretty hard to pass (even with the help of tibia wiki maps i got lost a couple times) but finally i could kill some warlocks and lvl up there pretty well. 
Thanks for all the information TIBIA WIKI    Happy 10th Anniversary!!
Kind Regards
Tinyhealer (Magera)
Submission by Danath Drai (status: accepted)
Happy Birthday TibiaWiki! 
TibiaWiki is important to my gaming experience because it is the main fansite that I use apart from the tibia homepage. TibiaWiki is a website I can rely on because I dislike asking ppl in game for help and TibiaWiki makes it possible for me to gain knowledge in a more discrete way. It even helps me to choose a hunting spot because instead of asking ppl what to hunt, I look on tibia mapper for a potential place that I think is good, then look it up in TibiaWiki search and see what monsters it contains. it also saves me the bad feeling of being worried that I will face monsters that I should be scared of because TibiaWiki would inform me about that. Thnx for that TibiaWiki! 
Danath Drai
Nerana
Submission by Yarumasi (talk) (status: accepted)
Once long, long ago,  after the Pits of Inferno were released, I had read on the Wiki about an amazingly appealing creature called the Destroyer.
My guild and I were so excited to hunt this. But where do I do such a thing? I know, let's check TibiaWiki ! Ah, yes... Formorgar Mines were recently released and had amazing creatures from the depths of the Pits. Destroyers were, apparently, quite prevailant in some areas. Perfect!
Information regarding a few Pits of Inferno creatures were a bit shaky to say the least, but we went with what we knew. Using my sorcerer I decided it'd be a grand idea to hunt them. After all, the Wiki at the time had stated they were neutral to energy. Oh... the mistakes... the mistake I had made that day. Apparently someone had edited the page in an attempt to trick me. Next thing you know, I'm sparking Destroyers due to their immunity to energy. The look on our faces was priceless. Turns out my sorcerer may not have been the best of ideas...
At the end of the day, TibiaWiki has always been a valuable source of information, but sometimes sneaky do-badders come along... :-)
Character Name: Serkorion
World: Secura (Refugia if my transfer hasn't gone through!)
Submission by Willehalm (status: accepted)
I really like the outfiter, thats the best part of tibiawiki (for me). To try some new outfits/mounts and to ponder, if they are good enough to achieve. Cant wait to experiment with the magic carpets.
Edit: I also really appreciate Informations and stories about old players and tibia history. If tibiawiki could also be a place for cultural memories, this would be great.
Name: Oldboy
World: Candia
Submission by BlueHeartKid (talk) (status: accepted)
Hello.
Thank you Tibia wikia for being there all those years.
I remember when erig.net first came out and it was a very refreshing new way of watching tibia, since there was nothing alike at the time, I used to use WoT to check everything needed about tibia related back then, but once it got shut down, tibia wikia has been the my choice for all the past years. thank u for still being active :)
Character: Diogo the archer
World: Amera
Submission by Ragohiro (talk) (status: rejected)
I love Tibia wiki, its hard to even remember how I used to look things up before this wiki existed, this is by far the best source of information in english that I have ever encountered 
 Cedric Digory (Rowana) 
Submission by Avackqdava (status: accepted)
Hello,
I know tibia since i was 4 years old, i remember when i use to play in that age with my old brother in Rookguard, still know the time i use to cach rat corpses to sell TOM npc for gold to backpack good old days.
Tibia is very important to me because it is the base of english i had (i'm brazilian), and at this part im proud to learn the meaning of almost everything i learn by this game. Tibiawiki really helped me when i come back to play in 2007 when i was 8 years old because without it i would not be able to know almost nothing that i know of tibia now, since how to say "hi" to npcs too find monsters, hunts, how to get fast level and sell my loot, and this is a guide for two cousins that im teaching how to play tibia.
A fun story of tibia it was in 2013 when i came back playing because of my younger brother i think its my best brother (he is one of 5 brothers that i have), i made this Druid for level with him while he is a knight, when i reach lvl 18 i said hello on world chat i met two guys there i'm not going to say the names here, they were awesome friends i did lots of fun like sending parcels for one with some loots and he send back with more loot at the final of the year when he stopped playing it was a parcel that weight around 10000oz. But all friendship has the bad history it happen on the 8º month of 2013 i belive someone stole the house of my best friend of the both i met in the world chat at lvl 18, they all guilty me because they said i were the unique person that enter on the week that could do that, i lost almost all the friends i get because of this, starting 2014 i was level 100 so no problems i quit for studies, and returned now. This story that happend with me in tibia it is really fun for me because can show how i belive that i really only wants to help people, but some dont seen to need it. I still miss my old friends but the life go and i can't suffer for those problems, it is like a life lesson. I REALLY LIKE THAT AND THAT MAKE ME WANT TO PLAY MORE AND MORE. And this was the year i used tibiawiki at most without i would not playing to know this old friends, i already would be without this account at momment because im not very good at recording accounts, this site made me a lover of tibia and still making me surprise about all those fun facts that happend because of it, without this wiki i would not play like i play today.
Happy 10th anniversary, TibiaWiki!
Character Name: Avackqdava
World: Solera
I think this is the best world i've played since i met tibia. And sorry with i made any mistake.
Submission by Knaet (status: accepted)
Without Tibiawiki, Tibia wouldn't be a game that i would play. I Probably spend as much time on Tibiawiki as i do in game.
I Love reading and learning about stuff! I also love getting really nerdy about small details.
In my opinion Tibiawiki is just as big part of the game as the community itself.
Cheers! 
Happy 10th anniversary, TibiaWiki!
Character Name: Knaet
World: Iona
Submission by Gizzem (talk) (status: accepted)
Hi
I find tibiawiki helpful to finish quests, count loot & find where everything sells.  Without tibiawiki i'd have a very hard time playing tibia, it just makes the gaming experience that much better with these helpful tips especially for the hotkeys, it made my life so much easier back in the day!! everything on here is just great, so thankyou tibiawiki!!
happy 10th anniversary!! :)
Character: Flent
World: Calmera
Submission by Tahis (talk) (status: accepted)
The Polar Star is an ally of the sailor with a simple observation can verify and determine latitude direction. Since I started playing Tibia TibiaWiki was my North Star. Thank you <3
Lynda Lady
                      World: Shivera
Account created: Mar 26 2007, 23:07:47 CEST
Submission by Angel Iezalel (talk) (status: accepted)
"Happy 10th anniversary, TibiaWiki!"
I played Tibia since version 5.1, and whenever I needed help in any Quest or understand the use of some Itens have Cunsultado TibiaWiki; I think in their home estubo a GM collaborating with Tibiawiki for the information that we could consult.
Anyway I retire about 8 years ago and returned not long ago; and with all the changes that suffered Tibia ... My God, how good is having TibiaWiki for one to be a Day and overcome difficulties.
No conosco the names of the people who have helped complete the information that we are helpful, but if they mean; Verry Thanks!
"Happy 10th anniversary, TibiaWiki!" and follow the successes xD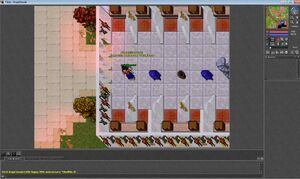 Angel iezalel Server of Menera
Submission by Randomppl (talk) Pitbull'puppy, Amera (status: accepted)
Happy 10th Anniversary Tibia Wiki!!!
Thank you so much for helping me and my friends!
For helping me count and sort my many loot bags telling me where to sell them and helping me solve many quests!
I Truely wouldn't of kept playing without you!
Heres a few short stories of many.....
I was walking thourgh Thais one day when I then see this new outfit so I asked if the fellow Tibian would tell me how to get it.... Well he was a jerk so I went to Tibia wiki! Thank you for my Brotherhood outfit!!!!!


So one day Im walking in darashia and my old time friend and tibia husband Black Pulse, shows me his armor and I was like OMG WHAT IS THAT!!!! So he tells me its a Royal Scale Robe.... I so wanted one so i go to the market to buy it.... WHAT IS THIS 1,500,000 GOLD!!! No way i can buy this.... THEN HE TELLS ME I CAN GET IT BY DOING QUESTS!!! I don't quest often so I had to start from the begining and do many many quest to get this robe but thanks to TIBIA WIKI I was able to do this quest many parts I needed my fellow Tibians but they are once used TIBIA WIKI to help them!!!

I'm not going to make this much longer it's just so hard to sum up the many things this site has done for me...
My recent event for this submission
I saw this awsome mount for a FULL YEAR and I wanted it so badly and so my friends said it comes once a year and there was this loooong path within many areas, I had to take in order to get this mount! So I went to TIBIA WIKI! That so kindly showed me the way!!!! Although it took me awhile, I GOT MY MOUNT THIS YEAR!!!! THANK YOU TIBIA WIKI!!!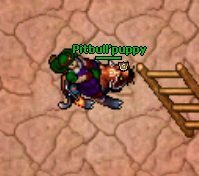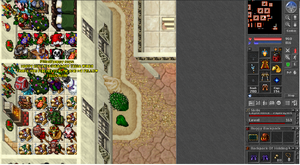 Submission by Citizen Thompa (status: accepted)
My story for the Tibiawiki lottery
Just wanted to write a short story about how Tibiawiki can not only help with solving existing quests in tibia but also to make your own quests. Gathering information and knowledge is key in creating inspiration and ideas.
A while back around 9 months I decided to create a quest for a friend of mine ingame, at that time she was my only friend, we can give her the pseudonym Miss S. The quest was quite simple, I pretended my main was kidnapped by a second char of mine, an evil alter ego who was going to take over the lands of Galana. My second char even made some character developments during the time of the quest from arrogant and evil to "desperately evil". To find my main she had to find letters that would have clues mainly through rhymes to another letter that would lead to the goal. I at that time also needed a theme, which was Disney, in each letter was a Disney song to keep it fun and keep variety. To be able to do that I started to search on tibiawiki for different characters that could be seen as Disney characters. Meriana could of course be seen as Ariel after a google search tibia+mermaid. I was very happy once I found the allusion page on wiki, which gave me a lot of characters and places to work with. An example was "A Dark haired beauty" an allusion to Snow White. One of the rhymes in the letter then involved the snowbunny achievements description togheter with some poetry for the colour white.
"Hopping, hopping through the snow - that's the funnest way to go! Making footprints in a flurry - it's more fun the more you hurry! Licking icicles all day - Winter, never go away!"' 
I also wanted places to explore, I decided to get my friend to one of the higher places in tibia, which according to tibiawiki was the tower in Carlin Castle. The quest ended with a fist fighting battle between my second char and my friend and her finding the way into the Ab'Dendriel labyrinth for a reward accompanied by the song "tale as old as time". With some help from tibiawiki of course, otherwise she might have been still searching her way to the centre!
Who knows maybe this gives some ideas and inspiration to someone else who reads this. Just wanted to end with saying, thanks to the creators and volunteers who makes the site what it is, I most likely check this place at least 6-7 times a day. With everything from finding hunting grounds, doing quests to checking prices or drooling over rare items. Thanks for existing.
Citizen Thompa on Efidia    
Submission by aka Yuna (talk) (status: accepted)
Congratulations, TibiaWiki!
I would love to thank you for the amazing time I had on this wiki for making it possible to search for quests like PoI which was impossible for me without the help of wiki, item page like Taming items which helped me find corresponding mount, monsters that reside in Zao, new updates like Rathelon city, and a lot more content which I could never find anywhere else, as well as abillity to create new entries to help other TibiaWikians survive their daily tibian life.
Another thanks to the Admins running this site and Moderators for keeping check on the content to say up-to-date !!
-Congratulations on your 10th year anniversary, TibiaWiki!-
Cryogivia
Inhabitant of Secura
Submission by Elle (Fidera) (status: accepted)
Did you know energy elementals are weak to earth by 15%?! I didn't know this when I encountered my first one >.< and I almost die a horrible death. I tried everything, I thought...fire, energy, ice... and nothing worked. I had to run as fast as I could for my life! (oh, my noob days :'D) Then a friend mentioned TibiaWiki, this wonderful site where I could see strenghts, immunities and weaknesses of all monsters! Now, I don't leave for a hunt before checking I am carrying the right supplies. Thank you, Tibiawiki, for these years of valuable information!
Elle (Fidera)
Submission by Suriah Denick (talk) (status: accepted)
About four years ago, I left the city of Folda with a strong desire to become a great druid. I had great difficulty at the beginning of my journey, because I few resources and did not know the cities of Tibia and the monsters that lived there.
After many months training my magical abilities and hunting trolls in the city of Thais to survive, I came across an old badly wounded druid. He had just defend the city alone, a surprise attack of orcs.
I tried to help him with all my spells but nothing worked. The old druid seeing my effort raised his hand in a gesture for me to stop.
With its small voice whispered that his time had come, but I still had a long way to go.
And that to become a great druid, not enough for me just magical power or vitality. That the real key to power was knowledge, and that only through him, I would realize my dream.
After that day, I started to seek all possible knowledge, was when I found out about TibiaWiki, the largest Tibia on knowledge portal.
There I found everything I needed: information about creatures that had never heard of, new spells, valuable information on all the cities of Tibia, notes on its merchants, residents, and even tips on where to get good jobs with great rewards.
Thanks to TibiaWiki could win many good things, and that's why I wish with all my heart a happy birthday to the site!
Happy 10th anniversary, TibiaWiki!
My character is Suriah Denick from Honera.
Submission by Etlily (talk) Etlily from Pacera - edited (status: accepted)
Happy 10th anniversary, TibiaWiki!
In 2004 summer, a student dropped into the world – Pacera of Tibia accidentally. She acted as a druid, hunted rots and sold her UHs nearly day and night to dream for owning a house. She was very lucky to know some of the greatest people among the world at that time – Members of Girl Power (Nushi, Shyx, Cros), Ozzy, Ghinx etc. Her name became to appear in the top 25 Level in the list of Pacera. Though hunts with Ghinx, she know a boy from England who would quit tibia and told he should do a great thing for tibia. After that the name of this boy disappeared in tibia online list.
As time passed by, this poor girl graduated from school. Life pushed her to live in real life but not for tibia anymore, she quitted tibia without saying "Goodbye" to anyone suddenly.
10 years later, this poor girl once again dropped into the world – Pacera of Tibia accidentally in 2014. Her withered character has been deleted and she comes with a New character. Tibia changed a lot in 10 years – system changed, map changed, playing style changed and the most important thing was all her friends are gone. She couldn't find the way to enjoy tibia life at once. Luckily again, she found her friend though a webpage – TibiaWiki! The name of the English boy met in 10 years ago appeared in her eye. He really did a great thing for tibia! He was not only helped this lost and poor girl to live in tibia again, but also helped more than 10 thousands players per day!
10 years changed lots of things – Value, Life, Environment, and People… However, precious moment in tibia didn't change.
This poor girl named Lily, always feeling with your friendship support!
Happy 10th anniversary, TibiaWiki! And Forever Moment!
Thanks with Best Wishes !
Etlily, from Pacera.
Submission by WisdomHonera (talk)Wisdom Hellsing (status: accepted)
Tibia.wikia.com has been very important for me all these years I've played tibia, I use your website everyday to search for items, quests and everything I need to know to play tibia, you've make my tibian life a lot easier I'm very glad that you're in your 10th anniversary and would like to wish you the best for you and please keep up with the excellent work you do with this website.
Happy 10th anniversary, TibiaWiki!
Wisdom Hellsing
Honera
Submission by Fengel. (status: accepted)
Back in the days, many many years ago, when I started to take my first steps into the lands of Tibia I remember how hard it was to aquire information about anything in Tibia. You either had to find someone with good heart and patience, whiling to share information with you, pay someone for it or find a mentor. I must say I was very lucky to find such a great mentor to help me in my baby steps in this long journey, on the other hand makes me reflect and think how many newbies (like me) had really hard time in their first steps in Tibia and how many even gave up in the begining. Yes my friends, Tibia wasnt for the weak!
But times changes, Tibiawiki came to share the whole knowledge of it. Imagine how many current legends don't read this site everyday seeking for information... maybe about a quest, a monster or even a nice story from the past.
My deepest congratulations, for being a mentor to any Tibian whiling to read and learn with this site. May Tibiawiki prosper for many more years!
<cheers>
Fengel - Antica.
Submission by Maddef (talk) (status: accepted)
Character: Mad Def
World: Harmonia
All Tibians knows that TibiaWikia is the best fansite. It is powerful source of knowledge for players on every level.
Submission by Faiky (Honera) (status: accepted)
I started playing Tibia when I was a child.The game was complicated and, therefore, the site helped me a lot and even helps when I get questions about the content of the game. TibiaWiki is, surely, the best Tibian fansite, I'm thankful! Thank you, TibiaWiki team, for the performance in the development of site content!
Happy 10th anniversary, TibiaWiki!
Character: Faiky
World: Honera
Submission by Little Azo (status: accepted)
Hey guys, c'mon... Tibia Wiki is the best way, ever, to find whatever you want!! Really!
Somedays ago, i was searching for Rashid... And, man... WHERE IS RASHID!?
No problem! I've just to search for him in Tibia Wiki, and.. BINGO! On Carlin!
If I need an spoil of any... Yeah... ANY quest, just have to take a look on the Tibia Wiki!
With Tibia Wiki my gameplay is a lot better!
Little Azo, Pacera
Submission by Meoowmeoow (talk) (status: accepted)
TibiaWiki is very important in my gaming experience because I love to collect rares and kill bosses, and the TibiaWiki helps me a lot because with it I can know which bosses and new items appears in the updates of the game. I also like to resell items in the market and with TibiaWiki I can know the NPC price of the items and see if it is viable resell them or not. 
These are the main points for me, but also with TibiaWiki I have access to spoilers of the quests of which I want to do, and I can gain more knowledge about the game, such as stories, hunting places and more.
Meoow Meoow
Pacera.
Submission by Kepel (status: accepted)
It happens every day: as soon as I close the Tibia client, I realize there are about ten TibiaWiki pages in the background. As an old player coming back to Tibia, I figured it's nearly impossible to play the game without this site. Before hunting a new monster, I would check his HP, loot statistics, damage and vulnerabilities, to see if the hunt is even worth it. Whenever I need to buy or sell an item, I check the npc's prices and related info before even looking at the market. Not to mention the complete walkthrough to quests and task - information that, back in the day, was worth a fortune.
Thank you for existing, TibiaWiki, Tibia is a better game with you around.
Regards,
Kepel - Calmera
Submission by Tiele Lost (talk) (status: accepted)
Hello Tibiawiki you are the best fansite of Tibia, I always use your site mainly for quest spoilers. I can tell you that you guys have changed our Tibian lives because without you we wouldn't know how to do many things in tibia, you surely are a great help for all of us. Thank you for everything and I hope you get 10 more years :D
Happy 10th anniversary, TibiaWiki!
Tiele Lost - Pacera
Submission by Mirander (status: accepted)
Mirander (world Nerana): 
During 11 years of playing I have used TibiaWiki very often. Like many others, I used the website to mainly find out about quests. However, what I found very useful are the tips on TibiaWiki. example: A few years ago I remember that TibiaWiki has helped me to backup my tibia map files through the monthly tips that you guys make, I love them so much because it now saves the huge amount of frustration that I would have if I lost my maps again. 
Submission by Ennie (status: accepted)
Okay, first of all happy 10th anniversary, TibiaWiki! It is quite impressive time for sure and a lot of good work.
My 'Tibia adventure' started in 2007, but I still remember my very first steps. I was pretty much forced to create my account by friends who just made own characters and apparently needed a blocker. Even though I had completely no idea what this all was about and everything looked strange I tried to do my best to catch up. We had some fun, but unfortunatelly friends got bored after I while and left me alone with my 20 level knight. I decided to keep on playing anyway. Got to know that there is a quest giving insane amount of money (yes I mean desert quest), and if I only succeed it, I'll be able to buy my always wanted dragon shield. That was pretty strong point to start searching for someone to join me. Team I found by yelling in Carlin depot appeared to be spanish speaking bunch of friends (while I wasn't able to understand a single word or communicate with them in that language). They didn't know english or what to do in quest either. After half hour of pointless walking I was told there's a page that knows all tricky tibia answers. I swear Wiki you saved us couple hours of horror!
Yours,
Lady Clique/ Celesta
Tibia Wiki has always been really invaluable to me in many ways when playing Tibia. I always use it for questing, looking up creature statistics, loot drops or looking up hunting places. Because Tibia Wiki has always been a great source of information for me, I have always tried to contribute myself by uploading loot statistics and adding information to the pages when I think it is usefull. I am really gratefull that this Wiki exsist because without it I am not sure if I could be the Tibian I am today. Thank you Tibia Wiki and I hope there are many more proseperous years to follow!
Happy 10th anniversary, TibiaWiki!
Name: Gragas
World: Efidia
Submission by Spinnock (status: accepted)
Hello
TibiaWiki is great depository of Tibia knowledge almost invaluable for a begginer or old player come back, since the amount of monsters/items/quest etc expanded so much. I find TibiaWiki especially helpfull because i earn additional Tibiagold by buying some items in market and selling for NPCs and as there are so many items around i constantly need to remind myself the value. The Quests section of TibiaWiki may be considered somewhat harmful, but i really appreciate it: if i want simply an item quest offer and in no mood to think; or the simply summary of quests show quests reward i can choose from; or i try solving quest and miss small clue or misunderstand something, then i can go to TibiaWiki and overcone a hurdle.
Overall i have to say TibiaWiki is incredibly helpfull and with Tibia so expanded simply a neccessity.
Spinnock
Rowana
Submission by Squall Arcalarya (status: accepted)
When achievement points began in Tibia, I was very excited to do all (I repeat, ALL achievements), because at that time I already started top 1 of my server. Who was my companion and helped me so much in this journey of quests and achievements was, undoubtedly, the TibiaWiki. I'm very grateful and I wish you a Happy Birthday and Congratulations for all your staffs and colaborators for the excellent job! 
-Hugs-
Character: Squall Arcalarya
Server: Julera
Submission by Reg Park (talk) (status: accepted)
Imagine tibiawikia would not exist. I would end up trying to find out how to get a new mount for hours. I could not finish any quest by myself. Bad people could scam me very easy. I would have no clue what my loot is worth or where I could even sell it. So tibiawikia saves a lot of time and frustration. Therefor I am happy to be able to rely on tibiawikia.
Happy birthday tibiawikia!
Best regards
Reg Park from Efidia.
Submission by Vicium (status: accepted)
I thought it would be funny to take part in this lottery as most of my friends called me Tibiawikia! Usually when people want to know something wheter its about a quest or about some items they ask me and say it's easier to ask me than open the website as the results are the same and smile! So I think this book would fit me really well as I am a living tibiawikia there for people who are too lazy to open their browers!
Happy birthday tibiawikia!

Vicium
Antica
Submission by Makadamia (talk) (status: accepted)
Character: Makadamia
World: Harmonia
TibiaWikia.com is most trustworthy source of tibia knowledge. Simple look and convinience making this fansite most user friendly. That's why TibiaWikia is the best!
Submission by Mage Rani (status: accepted)
Posting again just to be sure cause I seem to have messed it up the last time, apologies!
Happy late anniversary TibiaWiki, thank you for being the most useful fansite for as long as I can remember. I would have gotten lost a million times in dungeons and would have been missing out on alot of cool places if it weren't for the maps of every place in Tibia. You guys also definatly sparked my interest for lore and mysteries long ago when I wasn't aware of any other fansites out there. Keep up the great work!
Mage Rani
Elysia
Submission by Krisph (talk) (status: accepted)
Happy 10th anniversary, TibiaWiki!
TibiaWiki is a very useful site in my tibian life. It's just so handy! Like if you need to check an item, where to get it, quests, monsters... theres just so much information!
To be honest, I don't know what I would have done without TibiaWiki, everytime I do a quest I always check TibiaWiki.
I have some friends ingame that usually asks me when it comes to certain items or quests just because i've been playing for awhile. I have learned alot of things from TibiaWiki so whenever I can't answer my friends questions directly I just check TibiaWiki so I can make them think that im still smart ( lol ) xD
Anyway congrats for level 10 TibiaWiki!
Character: Krisph Darkbane
World: Fidera
Submission by Draksol (talk) (status: accepted)
Congratulations for  10 years of hard working helping us with incredible detailed information.
I want so let you know that it is really useful me and for all the Tibian community to have a such source of knowledge to discover more and more about this world every day. For me and for more people this fansite it is not only an place to make our tibian life easy. It is a very important place where we learn where to go, which is the best place to hunt for us, how to not get lost, how to survives, where to have fun and lots more things.
I hope you continue work as hard as you did during lots of years more.
Happy 10th Anniversary, TibiaWiki!
Draksol from Efidia
Tibiawiki is the first fansite I ever visited and probably all my knowledge about Tibia is thanks to this fansite... I remember that day of 2009 when I asked some information to a player (Prince Nuada Silverlance, that later became my first tibian friend) standing next to me in Ab'dendriel's depot. After answering me, he told me to "check tibia.wikia.com",  cause "there you will find anything you need to know about this game"...and I did it. I remember that the first thing i checked out was information about Paladins and it spells, later I visited the site to gather info about quests and so on, until I finally understood the meaning of RPG and discovered that Tibia is full of unsolved mysteries, I knew about legendary players and volunteers that helped to develope Tibia, etc. TibiaWiki is somehow responsible for my passion about this game, that kept me playing for more than 6 years already. So, thank you a lot and I wish you a happy anniversary.  
Gabe Jerome - Honera (status: accepted)
I would just like to start off by stating that without the help and support that Tibia Wikia has provided me, I would not be where I am today when it comes to Tibia. This website is the holy grail of information and advice for everything that anyone needs to know about Tibia. Most of the quests and creatures are very dangerous when facing them for the first time, but coming here before hand and researching them can mean the difference between life and death; as preparedness is everything. Learning to master this tool is very important for newcomers, as a lot of seasoned players are pre occupied with hunting etc. Time and again I mention to new players to come here first, and go to the chat channels as a last resort. This is not to deter them from getting advice from other players, but to encourage them to explore their own understanding of the game itself, and in turn rely less on others and more on themselves.

Gabe Jerome, Honera
Submission by robaz (status: accepted)
I think tibiawiki is one of the best sites if you need any kind of help in the game. it doesn't matter if you just want to check how much youre lootbag is worth or if you want to find your way to demona warlocks, wikia got it all!
Happy 10th anniversary, TibiaWiki!
Character: Robaz
Submission by Zinina (talk) (status: accepted)
I've played Tibia since 2004 because of it's strong community, and TibiaWiki has been the only fansite I've kept using for all this time. TibiaWiki is a part of this community, and is often my lifeline when it comes to helping players that are stuck on quests, or need to know where to buy a specific spell, etc.
I am also fascinated by all the hours are put into the wiki, creating loot calculators and easy to use templates for us that want to help adding information to TibiaWiki.
Keep going another 10 years! :)
Submission by CosmosCat (talk) (status: accepted)
I wouldn't survive my tibia life long without Tibiawiki. Being the chicken that I am, I feel more secure knowing what lies ahead when going on a quest, or what tactics should be used on a certain monster.
Not to mention that it helps on simple things like chosing which tasks to take to maximize the boss outcomes in the Killing in the name of... quest!
Thanks for being around all this time for me and my fellow Tibians!
Narissa Tigara, Celesta
Submission by Tapherus Leon (status: accepted)
I remember the time before TibiaWikia, quests were very very hard to do, thanks for making questing safe! Happy anniversary!
Submission by Roccoxd (talk) (status: rejected)
Well, tibiawiki was always helpful to me mainly before the brazilian one exists. It still helps me with quests/spoils, itens' values, outfits, news, events and much others. I hope you're going to celebrate your 20th anniversary, 30th and always helping our community.
Community content is available under
CC-BY-SA
unless otherwise noted.