Roblox: DeepWoken - The Loop
Play Sound
Tibia's 25th Anniversary is the fifth official Tibian Anniversary, which started on January 7, 2022 and runs until February 06. There will also be a special event in May related to the celebrations.
Activities
A featured article was posted presenting the activities that will happen during the event.
Pantibian Festival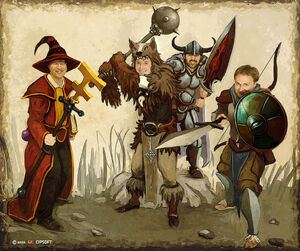 The Pantibian Festival will be a special event to be held in the spring. It will be an opportunity to meet the four founders of Tibia: Stephan, Guido, Durin and Steve – commonly known as the Gods – ingame and play Tibia with them. The Gods will spend 45 minutes on each of three special game worlds (one per region), which are only available during this event, to beat a fun obstacle course together with the players.
In order to participate in the event, a new highscore per game world region (EU, NA and SA) was created, called Pantheon. This highscore lists players based on the amount of Theons they have. Theons are a special "currency" that can be earned during the 25th Anniversary festivities in several different ways.
The top 50 players of each region will be invited to the festival. Furthermore, up to four streamers per region, with each one of them being able to bring a friend, will also be invited.
Time Travel Dungeon
In Thais, head to the northeast of the town, enter the tower, and take the new ladder downstairs, where you can find the time machine which starts your trip down memory lane in the Time Travel Dungeon.
There, you'll be able to fight 10 bosses:
3x a

Minor Timedisplaced Anomaly

3x a

Timedisplaced Anomaly

3x a

Major Timedisplaced Anomaly

1x a

Great Timedisplaced Anomaly
As their name suggests, they become increasinly stronger. While the Minor bosses are very easy, the Major anomalys use Fear, Rooting or both at the same time. The Great Anomaly uses all these mechanics and also deals more damage and has a lot more health than the others.
Killing each boss will grant you 50 - 150 Theons, some common loot and possibly some event items.
Raids
This raid occurs hourly, and lasts for 20 minutes. During the raid, a bunch of creatures spawns on fixed spawns every 5 minutes. The type of creatures spawned on each bunch it's completely random.
Killing these creatures grant 1 Theon per creature (you don't need to take the frag). These creatures also drop event items, such as Special Fx Boxes, Ice Cream Cones & Birthday Layer Cakes.
00:00:

The monsters that crashed the festivities near Svargrond, Liberty Bay and Port Hope are sighted again!
Unexpected

3500

/
1800

Uninvited
4700

/
2000

Unsolicited

3700

/
1750

Unwanted

3750

/
1720


Special items:

Locations :
Funfairs
Enter the funfair once a day for a chance to win prizes like Theons, carpets, and other deco items. enter the teleport and wait for the Lucky Dragon to land on a prize. Locations:
Birthday Buffet

Eat from The Ambrosia Buffet and recieve a reward. You can repeat it every 24 hours. Locations:
Picture Wall
Look for a Painter and Painting Booth around Tibia cities. 'Use' the painter with having 5 Gold Coins in your inventory to get the right to take a picture. Then move to the position behind the Booth to receive a Portrait with Ferumbras
.
You can repeat this activity once every 20 hours.
Locations:
Scavenger Hunt
Find the NPC Lost Traveler west of Thais' north exit. Next to him there's a machine, use it to receive a bag containing a Divining Rod
and a Time-Particle Extractor
.
Use the Rod and it will give you a Find Person like message:
The creature you are looking for is very far to the south-east.
Locate the Time Travelling Tourist using the Rod and then use the Extractor on it.
You have now gathered enough time particles for today! And you collected 200 Theons!
Known possible locations are:
After spawning, the Time Travelling Tourist can be found for 40 minutes, after that it will despawn and, 20 minutes later, spawn at a different place.
You can repeat this activity every 20 hours.
New Content
The activities above will bring along them new content related to the Anniversary.
Quests
Creatures
Creatures

| Name | EXP | HP | Max Damage | Loot |
| --- | --- | --- | --- | --- |
| Lord Retro | 0 | 3500 | ? | This creature drops no loot. |
| Morshabaal | ? | 1000000 | 30000+ | |
Items
Note: This list only contains items which are exclusively related to the event and will not be obtainable again after the Anniversary celebrations are over. For a complete list of the items related to the anniversary, specially those part of the 25 Years of Tibia Quest, see Updates/12.85.11485.
Boxes and Their Content
Carpets
Other Items
Theons
Theons are currency only obtainable participating on this event activities running from January 07 until February 08. Theons are used to rank the top 50 players of each location (EU, NA, SA) which will be qualified to enter the Pantibian Festival. From around the time the Pantibian Festival takes place, both qualified and non-qualified players may also exchange their Theons for deco items which can be gained during the 25 years festivities
Outfits
| Name | Male Outfit | Male Addons | Female Outfit | Female Addons | Type | Premium |
| --- | --- | --- | --- | --- | --- | --- |
| Formal Dress Outfits | | | | | Quest Outfits | ✓ |
Mounts
NPCs
NPCs

| Name | | Job | Buy/Sell | Location |
| --- | --- | --- | --- | --- |
Documents
Documents

| Name | Book Type | Short Description |
| --- | --- | --- |
Objects