Location
North-west in Kazordoon some floors down.
Notes
His full name is Talphion Sparkbender, son of the Machine, from the Savage Axes.
Talphion is a Technomancer that resides in Kazordoon, he wants to create a clock for the Colossus in the near future. Due to the noises the machine of his makes, it's difficult for him to hear you well. For example, if you say "Kazordoon", he responds with "WHAT?", if you say it again, he'll ask "WHO'S DOOMED?" and if you say if a third time, he'll finally understand you.
Click Here to Show/Hide Spoiler Information
Spoiler warning: Quest and/or game spoiling details follow. (
Settings
: hidden content)
Spoiler ends here.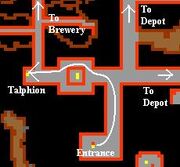 Transcripts
To change these transcripts, edit the transcripts page for Talphion.
Player: hi
Talphion: HIHOOOO Player! <waves his hands>
Player: gods
Talphion: GODS, WHO NEEDS GODS, WHEN WE CAN BUILD THE CORRECT MACHINE FOR EVERY OCCASION?
Player: job
Talphion: WHERE SHOULD I HOP?
Player: name
Talphion: I HAVE NO TIME FOR A GAME!
Player: quest
Talphion: BRING ME THE SCREWDRIVER OF KURIK AND I WILL REWARD YOU WITH A STEAMPOWERED SPIKESWORD!
Player: Tibia
Talphion: CAN'T TELL MUCH ABOUT IT. SELDOM GET OUT HERE, I AM A BUSY DWARF.
Player: time
Talphion: ONE DAY I WILL CREATE A CLOCK FOR THE COLOSSUS
Player: life
Talphion: WHAT HIVE?
Player: elves
Talphion: NO. I DON'T NEED ANY SHELVES!
Player: monsters
Talphion: I COULDN'T CARE LESS ABOUT THEM.
Player: Excalibug
Talphion: OLD FASHIONED BUTTERKNIFE! IF THEY LET ME, I WOULD CREATE WEAPONS THAT LEVEL ENTIRE CITIES!
Player: Ferumbras
Talphion: I BET I COULD BUILD A MACHINE TO SHRED HIM INTO PIECES!
Player: Kazordoon
Talphion: WHAT?
Player: The Big Old One
Talphion: THIS IS THE NAME OF THIS MOUNTAIN!
Player: Bezilor Nezil
Talphion: BEZIL AND NEZIL ARE RUNNING A SHOP.
Player: Duria
Talphion: KNIGHTS DO NOT HAVE THE BRAIN TO EVEN UNDERSTAND WHAT WE ARE OFFERING THEM.
Player: Etzel
Talphion: WHO NEEDS MAGIC? PAH!
Player: Jimbin
Talphion: HIS BREWERY SAVED OUR DAY MORE THEN ONCE IN MANY WAYS.
Player: Kroox
Talphion: WE COULD TEACH HIM MUCH IF HE LISTENED.
Player: Maryza
Talphion: LOVELY, BUT PREDJUDICED AS MOST DWARFS ARE.
Player: Uzgod
Talphion: WE COULD MAKE FOR HIM MACHINES TO DO HIS WORK IN HALF THE TIME I BET.
Player: Emperor' or Kruzak
Talphion: AT LEAST HES SMART ENOUGH TO LEAVE US ALONE, SO THERES HOPE FOR HIM.
Player: Durin
Talphion: I AM SURE HE WOULD BE SMART ENOUGH TO SEE THE CHANCES WE PROVIDE FOR DWARFENHOOD.
Player: offering
Talphion: YES, THE MOST SOPHISTICATED ITEMS THEY BUY ARE CROSSBOWS.
Player: crossbow
Talphion: DO YOU WANT TO BUY A CROSSBOW FOR 1150 GOLD?
Player: no
Talphion: PERHAPS NEXT TIME.
Player: fire
Talphion: NICE RESOURCE FOR OUR MACHINES, BUT NO NEED TO MAKE A BIG DEAL ABOUT IT, JAWOLL!
Player: earth
Talphion: SORRY, BUT JUST DUST AND MUD TO ME.
Player: geomancers
Talphion: OLD FOOLS, TO MUCH CONCERNED ABOUT TRADITION.
Player: technomancers
Talphion: WE ARE THE FUTURE. WE WILL BECOME A MAJOR POWER IN DWARFEN SOCIETY SOON! THEY WILL SEE, THEY WILL ALL SEE! <chuckles and rolls his eyes>
Player: pyromancers
Talphion: OLD FOOLS, TO MUCH CONCERNED ABOUT TRADITION.
Player: bye
Talphion: YEAH, GO AWAY!
Community content is available under
CC-BY-SA
unless otherwise noted.