The Svargrond Libraries is a collection of libraries that are all found outside of (but closest to) the city of Svargrond. Books can be found lying around on Grimlund, in Krimhorn, on the Formorgar Glacier, in the Formorgar Mines, and on Percht Island. Svargrond itself does not contain any libraries, but some books can be found here anyway.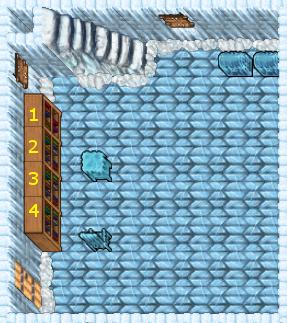 This library is located in the Ice Witch tower in the barbarian camp of Krimhorn. There are seven books inside the tower, and one is found inside a corpse on an island far north of Svargrond accessible from this tower.

Some books can be found here in two different locations.
The Cultist's Hideout

This area is just a small room on the third floor of the mines. There is a Lost Soul and an Enlightened of the Cult in this room. There's also a Crate with some food (2x Brown Bread, 4x Ham, Jug of Wine). The papers in the bookcase are the letters addressed to a fellow cultist regarding his job in managing the melting of the Formorgar Glacier. There's a big table with an Inkwell on it, and with it, the final incomplete paper. Perhaps something happened to the writer to prevent him from finishing the paper? Perhaps he is the Lost Soul?
Mining Site

These documents are found on the second floor of the mines, west of the hoist, here. The 3 Gargoyles there may displace the furniture there. The papers describe a growing concern about ships going missing on the Carlin-Svargrond boat route.
Others
Libraries in Tibia
Town
Wilderness
Other
Community content is available under
CC-BY-SA
unless otherwise noted.