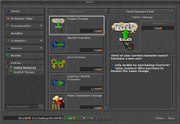 The Tibia Store is a feature to purchase goods and services using Tibia Coins. Tibia Coins are not in-game items so there is a special interface to use them. You can purchase Tibia Coins for real life money on the Tibia website and they are assigned to your account when the payment is verified, or you can purchase them in-game using Gold from other players who wish to sell theirs.
Note that although Tibia Coins are account-based, most of the products sold on the Tibia Store are limited to the character that purchases the product, while others are account-wide. Name and Sex Changes, World Transfers and Express World Transfers, Blessings and Temple Teleports all apply to the character that purchased them, as do all Mounts and Outfits. Consumable items such as Potions and Runes can only be used by the player who purchased them and can only be bought by players who do not have a Protection Zone Block or Logout Block. Furniture items can only be unwrapped by the house owner of the account. Premium Time applies to the account.
Anything tangible you buy will appear in your Store Inbox.
Sex changes will apply when the transaction is made. Name changes will apply the next time you log out of your account, requiring a complete login to perform. Premium will apply immediately. Character World Transfer must be performed at Travora during a server save. Blessings will be applied immediately to the character, and Temple Teleports will be activated upon next log-out.
Because Tibia Coins are account-based and not character-based, you need to query the server for the amount of Tibia Coins you have. If the server fails to respond you will be unable to see the amount of coins you have, and be unable to purchase with the coins you do have. The game client will query the server when the Tibia Store or The Market is opened.
The Tibia Store is also where you can see your past transactions. There is a button that will allow you to see all the transactions that took place affecting the amount of Tibia Coins you possess. If you purchase a mount, for example, it will display the mount that you purchased. If you place Tibia Coins on the market, it will deduct them from your total; if you cancel the offer or it expires, the amount will recover - all of these actions be logged in the store history.
Historically, there were Premium Scrolls which would grant 30 days of Premium Time. CipSoft also sold promotional outfits and mounts, and offered services such as sex change through their website. Tibia Coins consolidate all of these offers into one system. As a side effect, this now allows for other services to be sold in-game. Even though Tibia Coins are being sold at a rate equivalent to the old premium scroll prices, the Tibia Coins have more functionality and thus are worth more than the premium scrolls were.
There are some oddities with the Tibia Store. For example, possibly for historic reasons, there are 4 options under the category for Premium Time: 30 days, 90 days, 180 days and 360 days. Each of these has the same coins / day rate (8.333... coins/day) so it would make more sense to simply have one for 30 days.
It is possible to transfer Tibia Coins to another player through the Tibia Store. To do so, click on the icon that has a Tibia Coin with an arrow directed at a person. Fill in the recipient's character name and specify how many coins to send.
Offers
The Tibia Store offers are sorted by categories.
Premium Time
Consumables
Blessings
Casks
Exercise Weapons
Kegs
Please note that the kegs your vocation cannot use are not shown in the Store.
Potions
Please note that the potions your vocation cannot use are not shown in the Store.
Runes
Cosmetics
Mounts
Outfits
Houses
Decorations
Furniture
Beds
Upgrades
Hirelings
Hireling Dresses
Boosts
Extras
Extra Services
Useful Things
Tournament
Tickets
Exclusive Offers
Technical Information
The Tibia Store will store files links on your drive in the storeimages\data8 directory of Tibia's Application Data for the current user (%localappdata%\Tibia\packages\Tibia\storeimages\data8), much like the minimap directory contains the map files. In the storeimages\data8 directory there will be a bunch of subdirectories for images that have been loaded by the Tibia Store. The files in these subdirectories can be read as text files and the image URLs can be found.
Community content is available under
CC-BY-SA
unless otherwise noted.