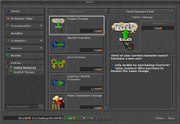 The Tibia Store is a feature to purchase goods and services using Tibia Coins. Tibia Coins are not in-game items so there is a special interface to use them. You can purchase Tibia Coins for real life money on the Tibia website and they are assigned to your account when the payment is verified, or you can purchase them in-game using Gold from other players who wish to sell theirs.
Note that although Tibia Coins are account-based, most of the products sold on the Tibia Store are limited to the character that purchases the product, while others are account-wide. Name and Sex Changes, World Transfers and Express World Transfers, Blessings and Temple Teleports all apply to the character that purchased them, as do all Mounts and Outfits. Consumable items such as Potions and Runes can only be used by the player who purchased them and can only be bought by players who do not have a Protection Zone Block or Logout Block. Furniture items can only be unwrapped by the house owner of the account. Premium Time applies to the account.
Anything tangible you buy will appear in your Store Inbox.
Sex changes will apply when the transaction is made. Name changes will apply the next time you log out of your account, requiring a complete login to perform. Premium will apply immediately. Character World Transfer must be performed at Travora during a server save. Blessings will be applied immediately to the character, and Temple Teleports will be activated upon next log-out.
Because Tibia Coins are account-based and not character-based, you need to query the server for the amount of Tibia Coins you have. If the server fails to respond you will be unable to see the amount of coins you have, and be unable to purchase with the coins you do have. The game client will query the server when the Tibia Store or The Market is opened.
The Tibia Store is also where you can see your past transactions. There is a button that will allow you to see all the transactions that took place affecting the amount of Tibia Coins you possess. If you purchase a mount, for example, it will display the mount that you purchased. If you place Tibia Coins on the market, it will deduct them from your total; if you cancel the offer or it expires, the amount will recover - all of these actions be logged in the store history.
Historically, there were Premium Scrolls which would grant 30 days of Premium Time. CipSoft also sold promotional outfits and mounts, and offered services such as sex change through their website. Tibia Coins consolidate all of these offers into one system. As a side effect, this now allows for other services to be sold in-game. Even though Tibia Coins are being sold at a rate equivalent to the old premium scroll prices, the Tibia Coins have more functionality and thus are worth more than the premium scrolls were.
There are some oddities with the Tibia Store. For example, possibly for historic reasons, there are 4 options under the category for Premium Time: 30 days, 90 days, 180 days and 360 days. Each of these has the same coins / day rate (8.333... coins/day) so it would make more sense to simply have one for 30 days.
It is possible to transfer Tibia Coins to another player through the Tibia Store. To do so, click on the icon that has a Tibia Coin with an arrow directed at a person. Fill in the recipient's character name and specify how many coins to send.
Offers
The Tibia Store offers are sorted by categories.
Please note that the kegs your vocation cannot use are not shown in the Store.
Please note that the potions your vocation cannot use are not shown in the Store.
Product
Price
Knightly Candelabra
60
Knightly Candle Holder
60
Knightly Fire Bowl
80
Knightly Guard
250
Knightly Sword Lamp
60
Knightly Wall Lamp
60
1x Blank Zaoan Panel
5x Blank Zaoan Panel
50
250
Sculpture of a Fox
180
Wooden Sandals
40
1x Zaoan Bamboo Tiles
5x Zaoan Bamboo Tiles
30
150
Zaoan Bonsai
50
Zaoan Divider
60
Zaoan Drawing
50
1x Zaoan Panel
5x Zaoan Panel
50
250
1x Zaoan Panel Base
5x Zaoan Panel Base
50
250
Zaoan Paravent
60
Zaoan Pot Bamboo
50
Zaoan Wall Lamp
60
Zaoan Wall Lamps
60
Kraken Buoy Lamp
60
Kraken Shelf
100
Kraken Tentacle Lamp
60
Kraken Watcher Lamp
80
Octoputz
180
Sculpture of an Octoputz
120
Dragon Plant
180
1x Grass
5x Grass
30
150
Pink Shroom Lamp
80
Yellow Shroom Lamp
60
Demon Baller
250
Volcanic Basin
90
Volcanic Bulb
80
Volcanic Mirror
120
Volcanic Sphere
90
Volcanic Spire
80
Podium of Renown
500
1x Grandiose Carpet
5x Grandiose Carpet
35
175
Grandiose Lamp
80
Grandiose Painting
50
Portable Aqueduct
250
1x Colourful Pom-Pom Carpet
5x Colourful Pom-Pom Carpet
30
150
1x Lilac Carpet
5x Lilac Carpet
30
150
1x Midnight Panther Rug
5x Midnight Panther Rug
30
150
1x Moon Carpet
5x Moon Carpet
25
125
1x Natural Pom-Pom Carpet
5x Natural Pom-Pom Carpet
30
150
1x Owin Rug
5x Owin Rug
30
150
1x Romantic Carpet
5x Romantic Carpet
30
150
Anvil (Store)
120
Baby Elephant
250
Forge (Store)
120
Grinding Wheel
80
Metal Wall Lamp
80
Pair of Bellows
50
Water Bucket
60
Barrel (Store)
60
Glowworms
180
Kitchen Clock
80
Kitchen Lamp
80
Kitchen Shelf
50
Oven (Store)
120
Vegetable Basket
50
Wallcupboard
50
Baby Bonelord
250
Demon Statue
100
Drawing Board
100
Sabretooth Skull
100
Sculpture of a Noblewoman
120
Bat (Store)
180
Four Hearts Lamp
120
Heart Lamp
180
Small Hearts Lamp
90
Baby Polar Bear
250
Baby Seal
250
Ferumbras Snowman
100
Ice Chandelier
180
Barrel & Anchor Lamp
80
Mermaid Figure Head
120
Model Ship Lamp
80
Monkey
180
Pirate Flag
50
Pirate Ship Ballista
120
Skeleton in a Cage
120
Pirate Treasure Chest
120
Ship's Wheel
50
White Shark Trophy
80
Baby Unicorn
250
Curly Hortensis Lamp
120
Hedgehog
150
Little Big Flower Lamp
80
Sarcophagus
120
Sulphur Blossom Lamp
80
Blue Round Cushion
50
Blue Square Cushion
50
Crystal Lamp
80
Demon Skull
50
Golden Demon Skull
80
Golden Minotaur Skull
100
Green Round Cushion
50
Green Square Cushion
50
Idol Lamp
80
Minotaur Skull
70
Violet Round Cushion
50
Violet Square Cushion
50
Festive Filled Shoes
50
Festive Fireplace
180
Festive Pile of Presents
50
Festive Pyramide
120
Festive Rocking Chair
50
Festive Sack of Presents
50
Festive Sleigh
50
Festive Table
100
Festive Tree
180
Chest of Abundance
120
Fluorescent Fungi
60
Gloomy Poisonous Fungi
60
Glowing Sulphur Fungi
60
Incomprehensible Riches
90
Luminescent Fungi
60
Painting of Tibiasula
250
Stuffed Bear Display
90
Stuffed Teddy Display
50
Anglerfish Lamp
120
Baby Rotworm
150
Bellflower
50
Carnivorous Plant
150
Fennec
150
Forget-Me-Not
50
Red Geranium
50
Alchemistic Bookstand
100
Alchemistic Cupboard
50
Alchemistic Scales
120
Pile of Alchemistic Books
120
Arrival at Thais Painting
50
Dungeon Scene Painting
100
Tibia Streets Painting
100
Ferumbras Portrait
100
Ferumbras Bust
70
King Tibianus Bust
50
Queen Eloise Bust
50
Light of Change
180
Torch of Change
120
1x Rolled-up Wheat Carpet
5x Rolled-up Wheat Carpet
30
150
1x Rolled-up Crested Carpet
5x Rolled-up Crested Carpet
25
125
1x Rolled-up Decorated Carpet
5x Rolled-up Decorated Carpet
35
175
Terrarium
180
Demon Pet
250
Venorean Table Clock
120
1x Rolled-up Verdant Carpet
5x Rolled-up Verdant Carpet
30
150
1x Rolled-up Shaggy Carpet
5x Rolled-up Shaggy Carpet
30
150
1x Rolled-up Mystic Carpet
5x Rolled-up Mystic Carpet
35
175
1x Rolled-up Wooden Planks
5x Rolled-up Wooden Planks
25
125
1x Piled-up Stone Tiles
5x Piled-up Stone Tiles
25
125
Hrodmiran Weapons Rack
90
Bath Tub
250
Spider in a Terrarium
180
Vengothic Lamp
180
Chameleon
250
Blooming Cactus
50
Bitter-Smack Leaf
50
Pink Roses
50
Red Roses
50
Yellow Roses
50
Parrot
180

Lit Skull Lamp

90
1x Rolled-up Flowery Carpet
5x Rolled-up Flowery Carpet
35
175
1x Rolled-up Colourful Carpet
5x Rolled-up Colourful Carpet
35
175
1x Rolled-up Striped Carpet
5x Rolled-up Striped Carpet
30
150
1x Rolled-up Patterned Carpet
5x Rolled-up Patterned Carpet
30
150
1x Rolled-up Fur Carpet
5x Rolled-up Fur Carpet
30
150
1x Rolled-up Diamond Carpet
5x Rolled-up Diamond Carpet
25
125
1x Rolled-up Night Sky Carpet
5x Rolled-up Night Sky Carpet
25
125
1x Rolled-up Star Carpet
5x Rolled-up Star Carpet
25
125
Fish in a Tank
180
Dog House
150
1x Golden Dragon Tapestry
5x Golden Dragon Tapestry
70
350
1x Sword Tapestry
5x Sword Tapestry
60
300
1x Brocade Tapestry
5x Brocade Tapestry
50
250
1x Rolled-up Crimson Carpet
5x Rolled-up Crimson Carpet
35
175
1x Rolled-up Azure Carpet
5x Rolled-up Azure Carpet
35
175
1x Rolled-up Emerald Carpet
5x Rolled-up Emerald Carpet
35
175
1x Light Parquet
5x Light Parquet
30
150
1x Marble Floor
5x Marble Floor
30
150
1x Dark Parquet
5x Dark Parquet


30
150
1x Rolled-up Yalaharian Carpet
5x Rolled-up Yalaharian Carpet
35
175
1x Rolled-up White Fur Carpet
5x Rolled-up White Fur Carpet
30
150
1x Rolled-up Bamboo Mat
5x Rolled-up Bamboo Mat
25
125
Baby Dragon
250
Cat in a Basket
150
Hamster in a Wheel
180
Lit Protectress Lamp
90
Lit Predator Lamp
60
1x Lordly Tapestry
5x Lordly Tapestry
50
250
1x Menacing Tapestry
5x Menacing Tapestry
70
350
1x All-Seeing Tapestry
5x All-Seeing Tapestry
60
300
| Product | | Price |
| --- | --- | --- |
| Main Character Change | | 250 |
| Sex Change | | 120 |
| Name Change | | 250 |
| South America World Transfer | | 375 |
| Express South America World Transfer | | 750 |
| World Transfer | | 750 |
| Express World Transfer | | 1500 |
Product
Price

Permanent Hunting Task Slot

750
Magic Gold Converter
15
Charm Expansion
450
30x

Instant Reward Access

100
5x Prey Wildcard
20x Prey Wildcard
50
200
Permanent Prey Slot
900
Gold Pouch
900
Gold Converter
5
Magic Gold Converter
15
Temple Teleport
15
Product
Price
Gilded Horned Helmet
1500
Gilded Blessed Shield
1500
Gilded Magic Longsword
1500
Gilded Crown
1500
Baby Brain Squid
800

Baby Vulcongra

800

Carved Table

100

Carved Table Centre

100

Carved Table Corner

100

Cozy Couch

100

Cozy Couch Corner

100

Cozy Couch Left End

100

Cozy Couch Right End

100

Cozy Couch Round

100

Demon Doll

400
Full Dragon Slayer Outfit
5000

Guzzlemaw Grub

800

Ogre Rowdy Doll

400

Retching Horror Doll

400

Vexclaw Doll

400
Cerberus Champion
1250
Cerberus Champion Puppy
800
Full Lion of War Outfit
1750
Full Veteran Paladin Outfit
1750
Full Void Master Outfit
1750
Jousting Eagle
1250
Jousting Eagle Baby
800
Sublime Tournament Accolade
500
1x Sublime Tournament Carpet
5x Sublime Tournament Carpet
70
350
Tournament Accolade
500
1x Tournament Carpet
5x Tournament Carpet
70
350
Technical Information
The Tibia Store will store files links on your drive in the storeimages\data8 directory of Tibia's Application Data for the current user (%localappdata%\Tibia\packages\Tibia\storeimages\data8), much like the minimap directory contains the map files. In the storeimages\data8 directory there will be a bunch of subdirectories for images that have been loaded by the Tibia Store. The files in these subdirectories can be read as text files and the image URLs can be found.