Properties
Property
Value
General Properties
Name
Purse
Item ID
{{{itemid}}}
Classification
Utilities
Containers
Other Properties
Volume
30
Movable

✗

Blocking

✓

Pickupable

✗

Version
9.54


June 13, 2012

Status
Deprecated.
Help
Location
Above every character's inventory.
Notes
It used to be a place to hold your Premium Scrolls until these were removed with Update 10.8. You wouldn't drop them when you died, even without death protection. It was not possible to put any other items in the purse.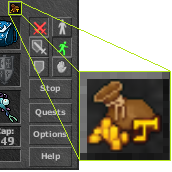 Community content is available under
CC-BY-SA
unless otherwise noted.