Properties
Property
Value
General
Aliases
Map Quest
Est. Length
Quest Log

✗

Requirements
Premium

✗

Level
60
(70+ recommended)
Other
Classification
Quest
Version
Unknown.
Status
Active
Help
Click to show/hide the quest spoiler.
(settings)
Required Items
Follow the direction to Demona on Double SD Quest.
When you are in Demona take the North West Ladder, the one that is leading to the Teleport out.
Now Continue along the path and take the first way north.
In This room, there are a lot of bookcases. In those bookcases you find the Maps and the Tome.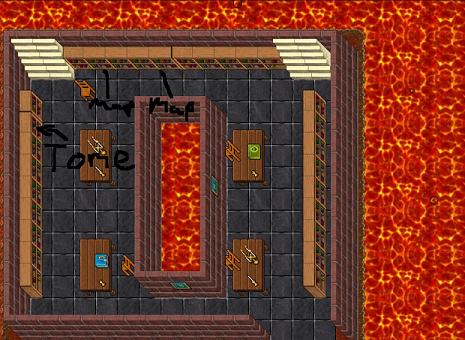 For the fastest way out, go south again to the main path and continue west, then turn south. Here is a teleport that brings you to Fields of Glory.
Community content is available under
CC-BY-SA
unless otherwise noted.