Notes
Five people are required to even enter his room in the first place. Apparently, there is a connection between Prince Drazzak and Variphor.
Click Here to Show/Hide Spoiler Information
Spoiler warning: Quest and/or game spoiling details follow. (
Settings
: hidden content)
Spoiler ends here.
Damage Taken From Elements
Physical

Holy

Death

Fire

Energy

Ice

Earth
Behaviour
Very erratic. At completely random times he will shout "All <VOCATION>S must DIE!" and 5 seconds after that he will cast a large AoE ability dealing massive damage to said vocation(s) and shouts DIE!. When he shouts "GET OVER HERE!", all players in the room are teleported next to him. His retargeting is also rather frequent.
Elemental damage for vocations:
Knights: Fire Damage (up to 6000 damage)
Paladins: Energy Damage (up to 5000 damage)
Sorcerers: Death Damage(up to 14000 damage)
Druid: Earth Damage (up to 14000 damage).

Strategy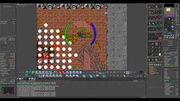 All vocations should wear as much protection against Death Damage as possible (remember that many items can be imbued with Powerful Lich Shroud), followed by protection against the vocation's element (see above). The boss is resistant to damage, has a lot of hitpoints and heals a lot; prepare for a long battle (15-25 minutes). The most dangerous parts of the fight are the moments and Prince Drazzak teleports everyone to him, since he usually uses his Death spells immediately after that. Because of this, the whole team should be able to take and/or reduce about 6000 Death Damage. When the Demons spawn (they are not actually summons but regular Demons), quickly pass them to the blocker (but keep an eye on the UE warnings) and kill them, they can be quite a hassle if still alive when the boss teleports the team.
Paladins, Sorcerers and Druids should bring the mana recovering dish and cupcake for emergencies, which can happen if the boss teleports the team twice in a short time.
Knights: In order to safely block this boss, the should be able to take the Fire UE damage (level 450+ recommended). Even though it can hit quite a lot, with the proper protection it will be safer for the team as a whole if the Knight takes this damage and quickly heal afterwards, which shouldn't be very hard since the spell is announced beforehand.
Paladins: The vocation with a greater chance of dying due to the high Death Damage from the boss teleport and the slow mana recovering. Wearing Energy Rings as well as Stone Skin Amulets (40 should be enough) are strongly recommended. Always keep an eye on your Ring duration and Amulet charges and replace them before they run out. When the Demons are summoned they will quickly use up the SSA charges, get rid of them as fast as possible to equip a new one.
Mages: Might Rings will greatly reduce the damage taken, 20 should be more than enough for the fight (remember to replace them). Always keep the boss and the blocker on the limit of your game window to make sure you're outside the UE range, which is quite large. Druids should wear Earth Damage protection where Death protection isn't possible in case they take the damage. Bring at least 500 SDs and 500 UMPs - this fight takes a while.
Community content is available under
CC-BY-SA
unless otherwise noted.