Legend
The Gnomes have discovered a marvelous new place deep under the surface of the world and need help exploring it.
Dangers
Crystal Enigma: Headpecker, Mantosaurus, Mercurial Menace, Noxious Ripptor, Shrieking Cry-Stal
Monster Graveyard: Sulphider, Sulphur Spouter, Nighthunter, Stalking Stalk, Undertaker
Sparkling Pools: Emerald Tortoise, Gore Horn, Gorerilla, Hulking Prehemoth, Sabretooth
Others dangers: Fungosaurus, Magma Bubble, The Primal Menace
Reward
One random item from the Primal Set. The base Fire-Fighter Outfits


Click to show/hide the quest spoiler.
(settings)
Requirements
Missions
This quest can be split in two parts. The first part consist of helping the Gnomes in different tasks until you defeat the first boss, Magma Bubble. Defeating this boss will grant you access to the second part, the Hazard System, which allows you to eventually get a piece of the Primal Set as well as increase your gains in the Gnomprona hunting areas.
You can use the map below to check important locations and the overall visual of the quest area.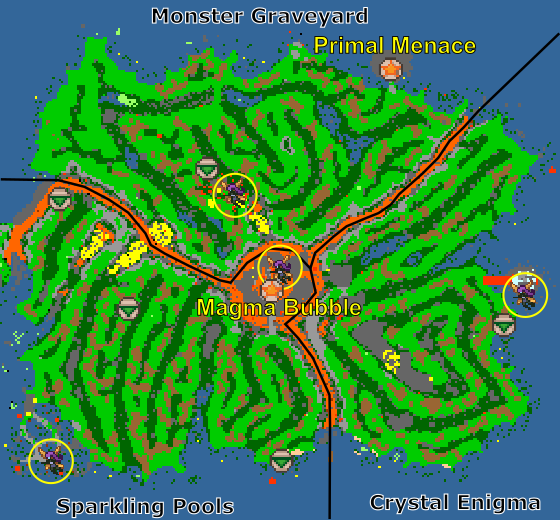 The Island that time forgot!
Find Gnomcruiter at the Noodles Academy of Modern Magic in Edron and ask him to join the efforts of the Gnomes into investigating a location deep under the surface of the world.
Then, go to the Steamboat in Cormaya and ask for a passage to Gnomprona.
Fairy Trails!
Talk to Gnominer just south of the steam boat in Gnomprona and ask him about challenger (this is the keyword you'll use to report missions with him throughout the quest). Then go south where you'll find Gnomfurry, buy one Candy Lure
from him by asking for a trade.
You'll have to use the Candy Lure on 7 different Lazyfaries that are in the underground area but also in the areas filled with creatures. To get to them, go into the cave near Gnomfurry and then walk south, where you'll find ore wagons to three different places. Three of the Lazyfaries are in the stone passages without any creatures:
The other four Lazyfairies are on the floor above, so you'll have to deal with the creatures there. They are approximately as strong as the creatures in the Secret Library, however, the special mechanics of the place can be very dangerous.
Once done return back to Gnominer.
Raiders of the Lost Flame!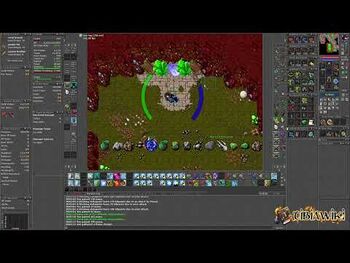 Gnominer tasks you with collecting flame charges at excavation site Moss, located here. While up to 5 players may enter, mission progress is individual.
Your task is to reach the other side of the room. Kill the Blocking Stalagmites blocking your path while avoiding Raging Monsters and Sulphur Menaces. Contact with their AoE attacks will not only push the player back but it will also consume obtained flame charges.
Step on the flame to obtain a charge, then make your way back to energy extractor device at the start. Player must obtain 3 charges to continue. Once done report back to Gnomimer.
Note: If you stand on a tile where a Blocking Stalagmite spawns, it will spawn south of you, allowing you to walk past it by moving diagonally instead of having to kill it every turn. This strategy will make this task a lot faster.
Not Catching Fire!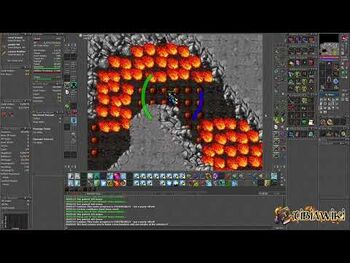 Gnominer sends you to excavation site Firefoot, here (use the right wagon to get there).
The task here is simple enough. Player must reach the structure at the end without stepping on big fire fields. Fields will turn gradually from ash into small fires and eventually big fires. If you're caught by a big fire field you'll be sent back to the entrance and you can keep trying.
After reaching the end you should see a message on the screen about your success. You can them step on a big fire field to return to the entrance and leave using the teleport. Don't forget to report the task to Gnominer.
In the Heat of the Fight
Head to GT-M-01 site here, again using the wagon to the right.
Your task is to kill 3 Lesser Magma Crystals. Be careful though, as stepping on the fire fields will start draining 15% of your maximum health every second. You can avoid this by using the energy extractor near the entrance to get a protective layer, which will appear as a number under your character's name.
Once done report back to Gnominer.
Snakes on a Plain!
Note: This part requires having completed the Within the Tides Quest.
Gnomes' cannot proceed with their experiment due to their artifact being too old and broken. However, the nagas seem to possess an artifact of their own. Gnominer tasks you to navigate a deal between the two parties.
Travel to Marapur, meet up with Nagging Naga here and ask about artifact. If you've proved your loyalty to Nagas they will agree to send the artifact to the gnomes.
Resonating the Stone!
Head to the teleport here, this time using the left of the three wagons.
Lava Puddle (Creature) will start spawning. Kill them and use their remains (Charged Flames

) on the green polarity reversed crystals to light up crystal flames, then step on them to gain a charge. Step on the large crystal plate south to deliver the charge.
You need 10 charges to complete the task, regardless of the amount of players inside the room or who gets them. You'll see a message at the center of the room once you're done, and then you can report back to Gnominer.
Magmageddon!
Battle recommendations: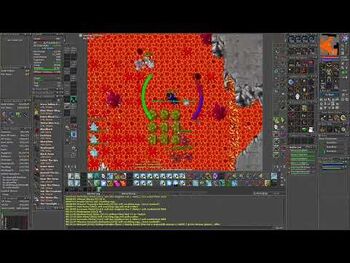 With the artifact in place and all tests concluded the gnomes are ready to strike back.
Enter the volcano here to face off Magma Bubble with up to 5 players. You'll have to use some of the strategies developed in the tasks during fight.
Firstly, you must protect Gnomish Crystallomancer from enemies. If he dies, then you'll fail, so make sure not to leave creatures attacking the Gnome.
Stage 1: Magma Crystals
Initially you must destroy 3 Magma Crystals in the arena. The crystals are in an overheated area, however, and if you go into this area with fire fields without protection you'll take 60% of your maximum health every second as Agony Damage, meaning this damage cannot be mitigated, which makes it basically impossible to survive. To get protection, you must attack The End of Days in the room. When it reaches half health it will heal back and several Lava Creatures will spawn.
By attacking the Lava Creatures, Charged Flames

will appear on the floor. Pickup the flames quickly and use them on the Crystals around the room when they become green, and then step on the purple flame that appears. The crystals randomly change from red to green, so you must run around looking for a green crystal before the flame vanishes. Doing this correctly will give you 5 shield points, displayed under your character's name.

Your team must collect a few rounds of points, at least 20 on 4 players (or more points on less players), before going to the overheated area. There, just attack the Magma Crystal until you kill it, but make sure to save at least 5 points for the way out of the overheated zone! You must make sure you kill the crystal when you use your shield, otherwise it will heal back while you get more points.
Repeat this process until you kill all three Magma Crystals in the room.
Stage 2: The End of Days

Once more you'll have to fight The End of Days, but this time they'll not produce Lava Creatures nor heal. On the other hand, there will be 6 of them instead of only 3. A good strategy here is to bring them to place in the room in a position the blocker can tank all 6 while they face the wall and don't move, so the mages can use their waves safely.

Stage 3: Magma Bubble
Once you kill all 6 End of Days, the Magma Bubble will spawn. It will also constantly summon 4 Unchained Fires, so you can use single target attacks on the boss during this stage. It should be faster than the previous stage and relatively simple.
During this stage, be careful with the Unchained Fires high AoE Fire Damage. Shooters should stack a lot of Fire protection and try to stay diagonally to lower the chances of being hit by their attacks.
Once the boss is defeated, return to Gnominer to receive your Fire-Fighter Outfits. You should also talk to Gnomadness to gain access to Hazard System and the The Primal Menace, located here.
Hazard System
Once you have defeated the Magma Bubble you can access the hazard system to spice up your hunts in Gnomprona.
To be able to set the difficulty to a higher hazard level, you have to earn the respective hazard qualification (i.e. your maximum achieved hazard) by killing The Primal Menace, which has a cooldown of 20 hours.
Each kill increases your hazard qualification by +1, but only if you kill the boss on the highest hazard level you have unlocked at that point.
A hazard level will not be applied automatically. You can select your active hazard level with the help of Gnomadness by saying the number of Hazard you want (1, 2, etc). This means you can also choose a hazard level below the current maximum you have unlocked. There's no cooldown or other limitations to change your current hazard level.

In a party, the lowest hazard level will count for the whole party no matter your personal choice. This effective hazard level can be seen on a counter under the character's name while in Gnomprona.
Upside of increasing your hazard level
Downsides of increasing your hazard level
All damage dealt by creatures increases;
The amount of critical extra damage dealt by creatures increases. The chance for a critical hit is the same across all hazard levels and creatures:

All creatures have a 7.5% chance to land a critical hit. This is the same across all hazard levels and creatures;
On hazard level 1 they will deal 50% critical extra damage;
A player can never by hit by more than one critical hit from these creatures within 2 seconds. This limit was added to reduce extreme damage spikes, as the critical extra damage scales to very high numbers.

The creature's chance to dodge attacks increases:

On hazard level 1 they will dodge 0.85% of attacks.

The chance to generate

Primal Pods

when killing a creature increases. In addition the damage when stepping onto a Primal Pod in its second stage increases.

Primal Pods have three stages. The first stage lasts 2 seconds during which you can safely step on them to destroy them. In their second stage (also 2 seconds?) you will take damage when stepping on them, but still destroy them. In their final stage they turn into a very powerful creature, the Fungosaurus, which yields no loot or XP.
The amount of Primal Pods spawned is randomized but increases with your group size;
On hazard level 1 you have a 0.875% chance to spawn a Primal Pod and they deal damage equal to 5% of your current hp plus 500.
The Primal Menace
To fight The Primal Menace, go to the Monster Graveyard, up the ramp and all the way north until you find a teleport here.
The mechanics of the fight include the spawn of Primal Pods and Primal Pack Beasts. Pods that are not handled will turn into new Fungosaurus, and primal beasts must be killed within 20 seconds, otherwise they become a Fungosaurus with full health. The higher your hazard level during the fight, the harder it will be, since you'll take more damage, spawn more pods and the boss will dodge attacks more often.
The recommended strategy is to always focus on the Pack Beasts, since one single Fungurosaurs can make the fight snowball out of control. The Primal Menace will slowly die from AoE damage or attacks dealt when no Pack Beasts are alive. Pay attention that the fight gets increasingly harder as the boss' health lowers, because Pack Beasts will spawn more often which will also lead to more Pods appearing.
Rewards
After reaching the Hazard Level 6, which means defeating the Primal Menace at Hazard 5, you can ask Gnomadness for a mount to receive your Ripptor.
When you reach the Hazard Level 12, which means defeating the Primal Menace at Hazard 11, you can ask Gnomadness for a reward to receive a Primal Bag which will instantly transform into any of the Primal Set items.
Transcripts
The Island that time forgot!
Player: hi
Gnomcruiter: Oh, hello. You might be one of the talented adventurers we are looking for!
Player: talented
Gnomcruiter: Are you interested in joining the efforts of the gnomish expedition corps?
Player: yes
Gnomcruiter: So listen, our prospectors recently discovered a marvelous new place deep under the surface of the world ...
Gnomcruiter: It is a whole landmass illuminated by a strange mist that hungs over it. ...
Gnomcruiter: It's populated by all kinds of primordeal creatures. ...
Gnomcruiter: Some are probably the progenitors of creatures that we currently know, whereas other creatures have never been seen before. ...
Gnomcruiter: In a joint venture with the adventurers guild we try to unearth the area's treasures and even discovered the remains of a mysterious civilisation that has become extinct long ago. ...
Gnomcruiter: Our greatest accomplishment yet was the discovery of the so called exaltation forge. ...
Gnomcruiter: Our gnomish scientists made the thing work and the adventurers' guild transported it to one of their bases. ...
Gnomcruiter: And we can only guess what other discoveries await us. ...
Gnomcruiter: As of now though, our operation has run into problems. That's where you come into play. ...
Gnomcruiter: We are looking for experienced people that want to join our efforts.
Player: join
Gnomcruiter: Great! Consider yourself conscripted. ...
Gnomcruiter: So get to the steamboat on that isle ... I guess you call it Cormaya, and ask for a passage to Gnomprona. ...
Gnomcruiter: Talk to Gnominer, the leader of our operations in Gnomprona. He will tell you where your help is needed most.
Primal Ordeal Quest
Fairy Trails!
Captain Seahorse: Welcome on board, Sir Billaz. Where can I sail you today?
Player: cormaya
Player: yes
Captain Seahorse: Set the sails!
Player: hi
Gurbasch: Welcome, Billaz! Lovely steamboat, ain't it? I can even offer you a passage if you like.
Player: Gnomprona
Player: yes
Gurbasch: Full steam ahead!
Player: hi
Gnominer: Greetings on Gomprona and welcome to operation challenger.
Player: challenger
Gnominer: We are exploring this underground island and are gathering the abundant resources found here. Recently we have run into trouble though ...
Gnominer: You see, the jungle was never a cosy place to begin with but recently something seems to have sired the wildlife into a frenzy. ...
Gnominer: Our head scientist Gnomadness has some disturbing theories about it. Not that his other theories are less disturbing, mind you. ...
Gnominer: Right now the seismic activity around the volcano is more of a concern for us though. I have sent out some fairy scouts to scan the area. ...
Gnominer: You'd expect as tiny as they are they must be brilliant, no offense to you huge people meant, but they are unreliable at best ...
Gnominer: At least seven of them have gone missing recently and our need for the data they collected is urgent. ...
Gnominer: I need you to get some candy, that is how we pay the fairies. Then find the missing scouts and use the candy to remind them of their duty.
Gnominer: They are only accustomed to the candy that Gomefurry sells, nothing else will probably work. You'll find him somewhere in the south.
Gnominer: Keep in mind that the candy melts after some time so better hurry or buy some new one.
Primal Ordeal Quest
Player: hi
Player: trade
Gnomfurry: Of course, I sell candy and ... well more candy. Lots of it.
Primal Ordeal Quest