Properties
Property
Value
General
Aliases
Fire Devil Quest
Est. Length
Requirements
Premium

✗

Level
0
(35+ recommended)
Other
Classification
Quest
Version
6.1


December 23, 2000

Status
Active
Help

Before embarking upon this quest, make sure you know how to reach the exit portal for the Vocation Quest. There is no other safe way out of the Desert Dungeon (you cannot get out the way you got in).
Required Equipment
Method
Go back to the Desert Dungeon entrance, use your shovel, and go inside.
Follow this path around to the west and south, possible meeting one Bonelord, and go up a level: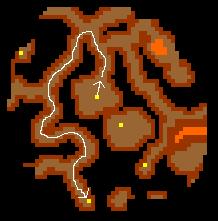 On this level, follow this path south, and go up one more level:

To get out, you need to go back to the entrance, and find your way to the Vocation Quest exit portal.