Properties
Property
Value
General
Aliases
Est. Length
10 min
Quest Log

✗

Requirements
Premium

✓

Level
0
(15 recommended)
Other
Classification
Mini World Change
Version
9.4


December 14, 2011

Status
Active
Help
Legend
Nomads travel through the desert and set up camp in various places.
Click to show/hide the quest spoiler.
(settings)
Messages
World Board: Nomads travel the eternal sands of Ankrahmun's desert. There must be a camp somewhere.
Towncryer: Hear ye! Hear ye! Ankrahmun's desert is the nomads' land. Find their camp in the golden sand, and a treasure may be close at hand!
Method
Different Nomads can be found at specific places in Kha'labal. It's not active every day and only one Nomad Camp can be found when it's active. There are 4 different camps (though only 3 have treasures). The treasure can be claimed once per day, meaning that the quest flag for each chest is reset after each server save.
This is what such a camp looks like: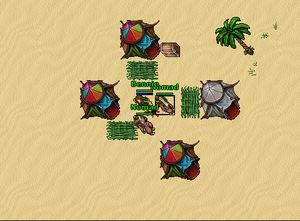 Open all 3 treasures to get the achievement Chest Robber. This means you'll have to do this MWC at least 3 different days.
Community content is available under
CC-BY-SA
unless otherwise noted.