Under the sands of the Kha'labal (desert north of Ankrahmun) a huge lair is inhabited by Larvae, Mummies, Scarabs, Bonebeasts, Necromancers and Ancient Scarabs. On the lowest level you can find a few Oriental Pillars and Obelisks, 2 Empty Coal Basins, a Counter (Cyan) with a Black Candle and a Note Pinned on the Wall saying:


You read: Oh Mother of Scarabs, show me your secrets! 
I offer my blood and bone, my flesh and soul to you. 
Feast upon my heart, drink from my skull,
divulge your darkest mysteries to me.

This hunting place was introduced in update 10.8 together with a lot of other new hunting places. Unlike older Larva Caves there is a great amount of mummies, some bonebeasts and ~2 necromancers added, contributing to the variety of creatures.
Entrances
The first (northern) entrance can be found here.
The second (southern) entrance is here (you may need to dig a few times).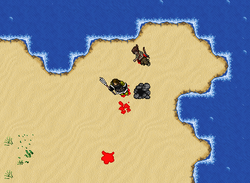 Click Here to Show/Hide Spoiler Information
Spoiler warning: Quest and/or game spoiling details follow. (
Settings
: hidden content)
The Mother of Scarabs Lair is also one of the spots you have to cartograph during the
Cartography 101 Quest
. There it's called "desert scarab lair".
Spoiler ends here.
Creatures
Community content is available under
CC-BY-SA
unless otherwise noted.