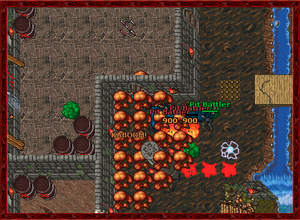 In Monster Arenas, introduced in client 10.94, teams of up to 5 premium players will have to defeat 10 waves of 8-10 monsters in less than a minute each in order to receive a good score and to have their names mentioned on the ingame leaderboard and the website's leaderboards section.
Reward
After completing all waves, a team will be awarded with arena badges which can be exchanged for potions and there's a chance to receive a special Surprise Cube with a few goodies inside.
Death Penalty
Arena monsters will yield no experience and have no loot. Similar to PvP arenas, the usual death penalty does not apply in PvE arena fights, and free account players can watch fights from above.
Locations
There are five arenas, their entrances are near the Duelling Arenas.
A special monster arena was available during Tibia's 20th Anniversary celebrations in Nostalgia (2017), its entrance was inside Nostalgia Exhibition building.
Difficulty levels
There are 5 difficulty levels in total. Each difficulty level also represents a certain level range. The ranges are as follows:
Level 1: Characters up to level 99
Level 2: Characters up to level 199
Level 3: Characters up to level 299
Level 4: Characters up to level 399
Level 5: Characters of any level can participate.
Creatures
There are 15 types of Pit Demons, for every difficulty level a different colour and a variation displayed by 3 types of armour.
Level 1
Level 2
Level 3
Level 4
Level 5
NPCs
Community content is available under
CC-BY-SA
unless otherwise noted.