Welcome to TibiaWiki,


the free repository of information about the free massive multiplayer online role playing game Tibia.

There are currently

17,693

articles.
About TibiaWiki
TibiaWiki is a Wiki project which was started by Erig on November 22, 2004. It has since become one of the largest and most often updated sources of Tibian information on the internet, reaching up to more than 1,900,000 visits a month from which more than 450,000 are absolutely unique (as of 2010, ranking second among all supported/promoted fansites). It is also the most favourite fansite as of this poll. Of course, its popularity is only because of the dedicated people that contribute.

When Erig.net became a Supported Fansite on November 24, 2005, TibiaWiki, being part of that site, became a supported fansite too. However TibiaWiki had an immense slowness during peak times under the old domain because of its popularity among Tibia players. The new domain hosted by Wikia provides a better availability of this well-liked fansite, which has been supported since January 22, 2008. With the introduction of the new fansite programme, TibiaWiki became a promoted fansite, on November 11, 2008.

Almost all images on this site are from the game Tibia. Please note that the only official website is Tibia.com. The game Tibia and the website Tibia.com are copyrighted by CipSoft GmbH.

See also: TibiaWiki/History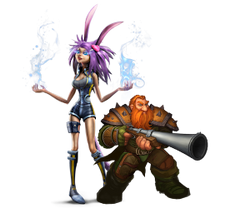 Community content is available under
CC-BY-SA
unless otherwise noted.