Required Equipment
Method
Go into the Ancient Temple, north of Thais (here).
Once down the steps, follow this path to the south and go down a level:

Next, you will head East, through some Orcs. You will come to some water, and a drawbridge. If the bridge is down, go across it, otherwise, you will need to flip the switch. The lever is located around to the south of the drawbridge, through a narrow passage (marked on the map). There might be one Orc Berserker here.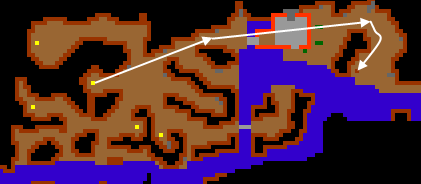 The pick hole is hidden against the west wall (circled on the map).
Be prepared to face three Bonelords at once down this hole. The easiest way to do this is to run to the box and take the reward then go up.
The quest box is in the north-east corner of this room.
Community content is available under
CC-BY-SA
unless otherwise noted.