There are three small tropical islands south-east of the Shattered Isles, these are known as the Laguna Islands. They haven't own names, they are just called Laguna Islands as a group.
The Laguna Islands are rich in vegetation, but are also densely populated with some dangerous wildlife. The palm trees and long sandy beaches are home to many protective amphibians like Toads, Tortoises and all kinds of small frogs. There is also a small village of Amazons on the smallest island.
There are no ports on the Laguna Islands, but some sea creatures know where they are and how to get there.
There are Sea Turtles that will transport you between the islands, but only if you have permission.

A good tip for Sorcerers and Druids is to summon 2 Monks and just hunt everything there.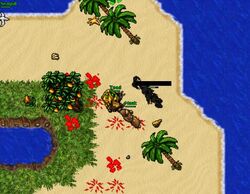 A knight can easily hunt here with 60/60 skills, a good weapon with 35+ attack from level 20, but usage of health potions may be needed. It is a very common knight hunting place due to high experience and profit for relatively low risk.
NPCs
Laguna Island NPCs (1 NPC)

| Name | | Job | Buy/Sell | Location |
| --- | --- | --- | --- | --- |
| Erayo | | Assassin | ✗ | North-East on Laguna Islands in a hammock, one level down. |
Creatures
Ground Levels
Community content is available under
CC-BY-SA
unless otherwise noted.