Properties
Property
Value
General
Aliases
Est. Length
Quest Log

✗

Requirements
Premium

✗

Level
0
(8 for raids)
(8 recommended)
Other
Classification
Mini World Change
Version
9.4


December 14, 2011

Status
Active
Help
Legend
The capital city of Tibia is completely transformed for the festivities of Kingsday.
Dangers
Various, depending on raids.
Click to show/hide the quest spoiler.
(settings)
Messages
World Board: Hail to the King! It's Kingsday in Thais, join the celebration!
Towncryer: Hear ye! Hear ye! It is Kingsday, people, let us celebrate and sing! Decorate Thais and let the bells ring! Come to the arena to hear the swords cling. Let us rejoice! Hail to the King!
Method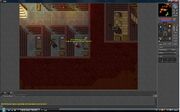 The day is dedicated to celebrating the King. This Mini World Change takes place in Thais, and the following changes take place:
Raids
It is possible to loot Party Lampions, Party Wall Tinsels and Party Wall Snakes from raiding creatures.
Community content is available under
CC-BY-SA
unless otherwise noted.