Legend
An elite group of Cyclopish warriors lost their valuable hammer during a war against the Minotaurs.
Click to show/hide the quest spoiler.
(settings)
Required Equipment
Method
Once down the hole, you will encounter Minotaurs, and Minotaur Archers. Follow the passage to the north-west until you find a room with beds in it. The quest box is located between a couple of beds: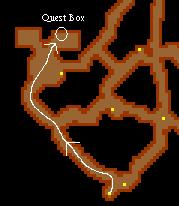 Community content is available under
CC-BY-SA
unless otherwise noted.