Horestis Tomb is a tomb north-west of Ankrahmun. It is comprised of 6 hunting floors and each floor becomes progressively more difficult. It is normally populated with Undead creatures specific to the tomb, e.g. Grave Guards, and with a final boss, Horestis. If Horestis is killed the tomb's creatures will no longer spawn, and Honour Guards will spawn all over the desert between Ankrahmun and Darashia.
It is not known how to repopulate the tomb but it is thought that Honour Guards or Scarabs must be killed in the desert. When the Scarabs are killed a phenomenon called Horestis' Curse may be witnessed: a scorpion sometimes spawns from the scarabs' bodies.
Click Here to Show/Hide Spoiler Information
Spoiler warning: Quest and/or game spoiling details follow. (
Settings
: hidden content)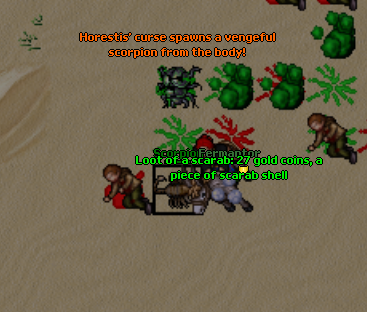 Spoiler ends here.
NPC
Creatures in Horestis Tomb when Horestis' Curse is active
Creatures in Horestis Tomb when Horestis' Curse is not active
Maps