Roblox: DeepWoken - The Loop
Play Sound
The Hero Cave (also known as Edron Ruins) is a sector filled with creatures and is located underneath the valley nearby Cyclopolis and the dragon lairs. The legends say it has been given this name after a few explorers who were responsible for the colonisation of Edron have gone missing and when they were finally spotted they turned their backs to the humans. There are many theories to why did this happen, but amongst them, the scholars says that it was the direct contact with the unholy fiends. Here you can find the main Demon and Hero hunting spots on Tibia, the Demon Helmet Quest it's located here as well (in Demon Hell). There's also a pentagram shaped room that seems to be an unsolved/unfinished quest, somewhere in this cave. Beware of hunters guarding the entrance. Quests you can find here are:
There is also a teleporter to the Demon Wars World Change area, located here.
Creatures
The following creatures can be found in the Edron Hero Cave.
Floor 1
Floor 1 (Entrance)

| Name | EXP | HP | Max Damage | Loot |
| --- | --- | --- | --- | --- |
| Wild Warrior | 60 | 135 | 70  | |
Floor 2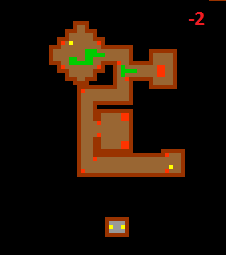 Floor 3
Floor 4
Floor 4

| Name | EXP | HP | Max Damage | Loot |
| --- | --- | --- | --- | --- |
| Bonelord | 170 | 260 | 235 (5 , 45 , 45 , 45 , 50 , 45 ) + 35  + 180  | |
| Dark Apprentice | 100 | 225 | 100 | |
| Dark Magician | 185 | 325 | 100 (30 , 40 , 30 ) | |
| Demon Skeleton | 240 | 400 | 235 (185 , 50 ) | |
| Orc Shaman | 110 | 115 | 95 (15 , 45 , 35 ) + 32  | |
| Elf Arcanist | 175 | 220 | 220 | |
| Minotaur Mage | 150 | 155 | 228 (40 , 105 , 83 ) | |
| Priestess | 420 | 390 | 195 | |
| Dragon Hatchling | 185 | 380 | 200 (55 , 145 ) | |
| Dragon | 700 | 1000 | 430 (120 , 310 ) | |
| Giant Spider | 900 | 1300 | 378 (300 , 78 ) + 44  | |
| Grim Reaper | 5500 | 3900 | 2595 (1600 , 995 ) | |
Floor 5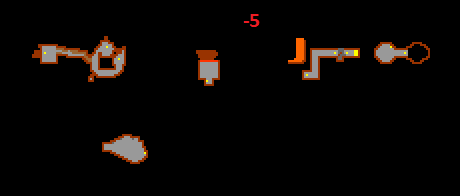 Floor 6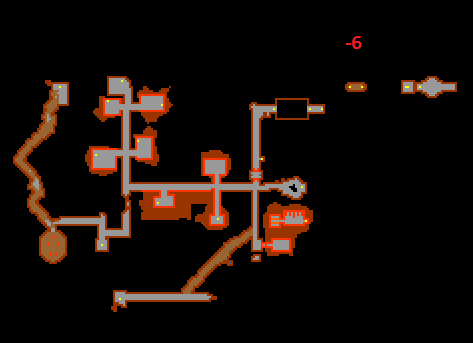 Floor 7
Floor 7 (Left)

| Name | EXP | HP | Max Damage | Loot |
| --- | --- | --- | --- | --- |
| Demon Skeleton | 240 | 400 | 235 (185 , 50 ) | |
Floor 8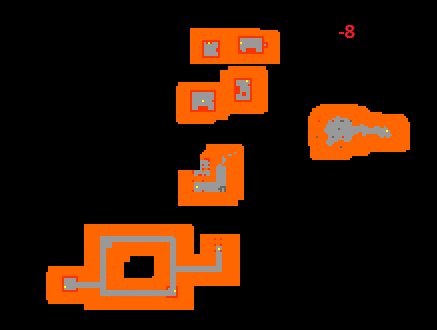 unaccounted for

| Name | EXP | HP | Max Damage | Loot |
| --- | --- | --- | --- | --- |
| Banshee | 900 | 1000 | 653 (100 , 3 , 350 , 200 ) | |
| Ungreez | 500 | 8200 | 1480? (480 , 250? , 750? ) + 140  | |
Map