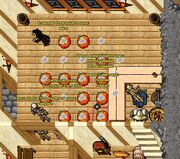 The Event
Halloween is an event which is annually held on the 31st of October. You can find some additional information in the Tibianews article here.
The Halloween Hare
This event consists of the presence of a small rabbit, The Halloween Hare. When standing close to it, he can turn NPCs and other creatures into the form of the following creatures:
In the past his "morphbombs" could also change people and creatures into Blightwalkers, Dark Torturers, Phantasms, Pirate Skeletons or Spectres, but as of halloween 2008 this is no longer possible. 
The Mutated Pumpkin
This event consists of finding The Mutated Pumpkin in Darashia, slaying it and carving in it. You will need a large team to defeat it, because it has a huge amount of hitpoints. You will also need an Obsidian Knife to carve it, and receive some nice present.
History
Community content is available under
CC-BY-SA
unless otherwise noted.