The Guzzlemaw Valley (aka Roshamuul Valley, Valley or just Mid) is a rocky area scattered with ruins which separates Lower Roshamuul and Upper Roshamuul. It is located up the ramp from the boat and base camp in Lower Roshamuul and across the bridge. This area is not accessible until the bridge is repaired (see each Game World for its current stage). The eastern part of the valley is also known as Bones because that's where Large Pile of Various Bones are found.
Some ruins in the western half have stairs which can provide some temporary safety. East by north-east is the wall which, when breached, is the entrance to Upper Roshamuul. Further east from the wall is Mawhawk's Lair, only accessible after desecrating enough shrines in the valley. In the south-east is the Silencer Plateau. Warning: Sights of Surrender can appear anywhere in the valley when enough tasks have been completed.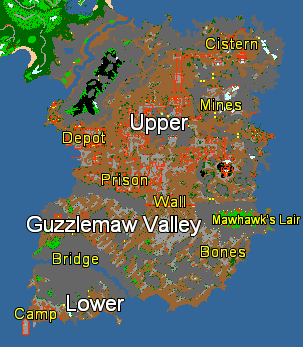 If less than 100 Blowing Horns tasks have been done the day before:
Community content is available under
CC-BY-SA
unless otherwise noted.