Properties
Property
Value
Combat Properties
Health
20
Experience
12
Speed
?
Armor
?
Elements
Physical
Est. Max Dmg
20
Summon
(not possible)
Convince
? mana
General Properties
Name
Giant Spider (Wyda)
Classification
Arachnids
Spawn Type
Illusionable

✗

Pushable

✓

Pushes

✗

Elemental Properties
Physical
100%
Earth
100%
Fire
100%
Death
100%
Energy
100%
Holy
100%
Ice
100%
Heal
100%
Life Drain
100%
Drown
100%
Immunity Properties
Paralysable

✓

Senses Invis.

✗

Behavioural Properties
Runs at
6
Walks around
Fire
Walks through
Other Properties
Version
9.4


December 14, 2011

Status
Active
Help
Notes
It looks exactly the same as a Giant Spider and may scare uninformed players. It behaves like a mere Spider though.
Click Here to Show/Hide Spoiler Information
Spoiler warning: Quest and/or game spoiling details follow. (
Settings
: hidden content)
Spoiler ends here.
Damage Taken From Elements
Physical

Holy

Death

Fire

Energy

Ice

Earth
Behaviour
A giant spider will retreat at 6 (30%, yellow) health.
Strategy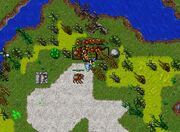 Treat it the same as you would treat a
Spider
in combat. It's not a great threat at all.
Community content is available under
CC-BY-SA
unless otherwise noted.