The Formorgar Mines are an old and abandoned mine complex located below the great Formorgar Glacier. The Carlin miners gave up on finding precious ores a long time ago after a raid of sea serpents made the route from Carlin to Hrodmir unsafe and left them short of workers.
The mines were frozen when the Frostheart Spire shattered, but they are still accessible. The complex consists of four different floors with all kinds of creatures within. Deep inside the mines lies the Yakchal Crypt, in which Yakchal may be forever slumbering. It is said that an ancient cult that worship a powerful demon called Ghazbaran are willing to melt the ice in the mines in order to revive him.
Note: you'll have to complete The Ice Islands Quest until mission 9 (Formorgar Mines 1: The Mission) to enter the mines.
Click Here to Show/Hide Spoiler Information
Spoiler warning: Quest and/or game spoiling details follow. (
Settings
: hidden content)
These mines house the following
quests
:
Spoiler ends here.
Route to Formorgar Mines
Formorgar Mines Creatures
And sometimes:
| Name | EXP | HP | Max Damage | Loot |
| --- | --- | --- | --- | --- |
| Yakchal | 4400 | 5750 | 1000+ | |
| Ghazbaran | 15000 | 60000 | 5800 (5000 , 800 ) + 1000  + 5200  | |
See also: Loot list of first and second floor See also: Loot list of the third to the sixth floor
Maps
Floor 1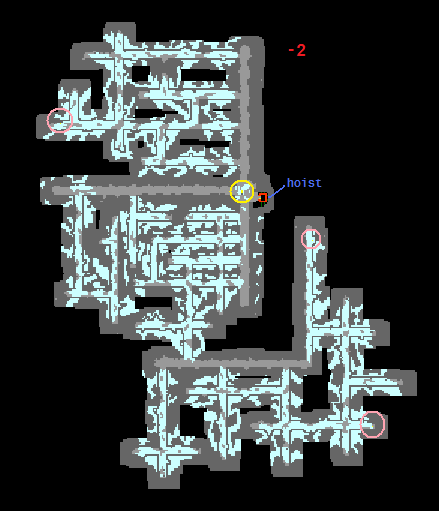 The yellow circle marks the ramp up, out of the mines. Near this entrance is also the Hoist. The three pink circles mark the stairs down, to floor 2.