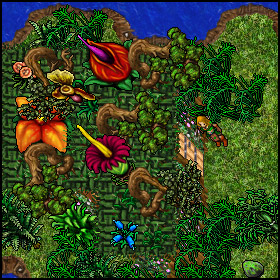 The Flower Month (June), also known as the Month of Flowers, is a month where Rosemarie comes to her home in Tiquanda and you can trade seeds with her to get a Flower Pot. If you take good care of your Flower Pot, a flower will start to grow in it, which can be used as decoration (for e.g. your house or guildhall).
During the flower month special raids occurs, where Dryads spawn, which drop the seeds needed for the flower pots and also other nice items.
The mini world change called Thawing Mini World Change is related to this event. You can harvest Ice Flower Seeds which can be used to preserve full grown plants (gained from this flower month event) or can be used to plant in an Empty Flower Pot to get an ice flower.
Related Creatures

| Name | Exp | HP | Max. Damage | Loot |
| --- | --- | --- | --- | --- |
| Dryad | 190 | 310 | 120+ | |
References
When this event started the first time, in 2008, an article was published on Tibia.com. Since then every year an announcement is made.