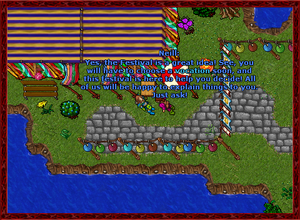 The Festival of Initiates is an expansion of the tutorial for new players, implemented in the Winter Update 2012.
Located on the Island of Destiny, after finishing Rookgaard, players are prepared for the new game content on the Tibian Mainland, with a few tutorial NPCs. You will be guided through the area by the Child of Destiny Quest.

There are four tents with four NPCs who will explain various skills and give you equipment to test each of these skills on Party Skeletons. First Neill will give you a Mean Knight Sword for close combat and melee skills. Next Tylius will give you a Sorc and Druid Staff to fight from across a counter. Shanoya tells you to get three Mean Paladin Spears from a chest and also fight from across a counter. Lastly Salbra will teach you the spells Practise Fire Wave, Practise Healing, and Practise Magic Missile and give you Lightest Magic Missile Runes to fight. There is a fifth tent where you can practise killing more Party Skeletons after you have completed the festival.
Note that once you enter the first tent past Neill the above ground areas is mostly not a Protection Zone and you could be killed on Open PvP and PvP-enforced worlds. The area west of the first two tents is a PZ as well as once you pass the fence at the north towards where the buildings are. At any time you can tell one of the NPCs "skip tutorial".
NPCs
Community content is available under
CC-BY-SA
unless otherwise noted.