This article is about the item called Explosion Rune. For the spell to create them, see Explosion.
Properties
Property
Value
Combat Properties
Element
Physical
Requirements
Level
31
Vocation
knights, paladins, sorcerers, druids
Magic Level
6
General Properties
Name
Explosion Rune
Item ID
3200
Classification
Attack Runes
Area Runes
Stackable

✓

Weight
0.35 oz.
Trade Properties
Value
Negotiable gp
Sold for
(not bought by NPCs)
Bought for
Negotiable gp
Marketable

✓

Other Properties
Usable

✓

Transferable

✓

Words
adevo mas hur
Light

1 sqm

Version
?

Status
Active
Help
Notes

You have to aim well with this Rune. Because it is an area of effect rune, it shoots wherever you click.
Explosion is the only Rune which inflicts Physical Damage.
Area of effect (the centre is the square which is targeted):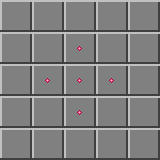 For the spell, see Explosion.
Dropped By
This item is not dropped by any creatures.
Community content is available under
CC-BY-SA
unless otherwise noted.