Effect

Attacks the target causing Physical Damage.
Notes
This spell is a mainstay for the paladin, and should be learned just as soon as the minimum required experience level is met. It inflicts physical damage based upon the paladin's distance fighting skill. Unlike the enchanted spear, no weapon or item is required to cast this spell. The range is a staggering 7 squares, allowing the paladin to target a creature off-screen. This spell permits the paladin to effectively "double attack" a monster, when it is used along with a melee or distance weapon in battle. Unlike the small delay observed when using a rune, e.g. an HMM, this spell fires instantaneously.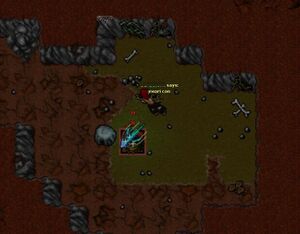 Community content is available under
CC-BY-SA
unless otherwise noted.