In the southeast part of Darashia, next to the magic carpet and the boat, there is an entrance to the Eternal Catacombs.
You can access the Deeper Catacombs from here. These deeper catacombs are inhabited by several undead creatures. If you go down even deeper, you will reach the catacombs of many old Darashian families.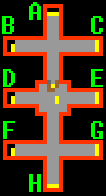 There are 8 seperate burial vaults. You can see their layout, and the people burried, below.
A: Ziad burial vault
Coffin 1
Gamil Ziad
Coffin 2
Asmaa Ziad
B: Akbar burial vault
Coffin 1
Here lies Ayishahi Akba
Mother of Anwar, Alim and Zaki Akba
Wife of Said Akba

To our beloved ancestors of the Akba family
Coffin 2
Here lies Said Akba
Father of Anwar, Alim and Zaki Akba
Husband of Ayishahi Akba

May Daraman hold his protective hand over the Akba family
C: Haroun burial vault
Only two coffins have been named, the rest remains empty.
Coffin 1
Hashim Haroun
Coffin 2
Ruqayya Haroun
D: Sa'di burial vault
Coffin 1
Jumanah Sa'di
Coffin 2
Adil Sa'di
Coffin 3
Atuf Sa'di
Coffin 4
Leila Sa'di
Coffin 5
Shahzad Sa'di
Coffin 6
Jalila Sa'di
Coffin 7
Shihab Sa'di
Coffin 8
Shareef Sa'di
E: Kadynes burial vault
Coffin 1
Karajima Habiba
Coffin 2
Djamila Mu'tamid
Coffin 3
Sanya Amal
Coffin 4
Tabassum Jawdat
Coffin 5
Maha Dima
F: Caliph family memorial crypt
The Caliph is the leader of Darashia. His family gets a special treatment, and have actually 2 crypts to burry their beloved ones.
Coffin 1
Murtada Hayder,
Head of the palace guards
Coffin 2
Vizier Galal Ebrahim

The monument next to the coffin reads: To serve was his only aim

Coffin 3
Imad Mohammed,
Taster of the caliph family
Coffin 4
Zahra Nasira,
concubine in favour
Sarcophagus 5
Azhar,
Son of caliph Kazzan,
Bastesh allowed him to enter her realm in his early years
G: Caliph family memorial crypt
As you cannot really enter this crypt, you can only read who has been put in the first Sarcophagus. The others remain unknown.
Sarcophagus 1
Muhsina of Darashia,
Mother of Kazzan
H: Hasib burial vault
Coffin 1
Rajiya Hasib
Coffin 2
Khalid Hasib
Coffin 3
Fathi Hasib
Coffin 4
Sabah Hasib
Community content is available under
CC-BY-SA
unless otherwise noted.