Feel my wrath!
No one will stop my ascension!
My powers are divine!
You desecrated this temple!
Muahahaha!
Damage Taken From Elements
Physical

Death

Holy
Ice

Fire

Energy
Earth
Location
Shadowthorn
, the
Time Ring Quest
room.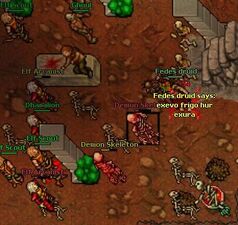 Behaviour
Dharalion fights until death.
Strategy
Just treat him like a strong Elf Arcanist. It's recommended to use a Stealth Ring or the spell Invisible when fighting him, so his summons cannot see you.