The library is located in the Desert Dungeon, underneath the Jakundaf Desert. The door is locked and you need silver key 4009 to open it. Beware as this room sometimes locks itself at random when the door is left unlocked.
First of all, talk to Hagor in order to get key 4022. Once you have it, you can access the locked room where key 4009 is.
The library door is four floors below groundlevel. First you have to did your way into the desert dungeon by the ruins. Go down all holes until you are 5 levels down. Go north and follow the wall that is to your left (will be on your right when you've followed it around and start to go south). It will lead you past a Bonelord spawn and eventually to a ladder. Go up here and follow the tunnel. Go north when the path split and you will come to the door. This is where you need to use key 4009.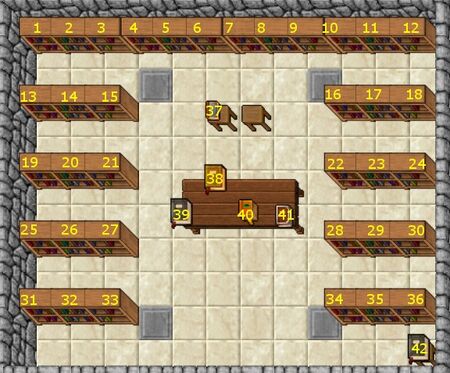 These bookcases are EMPTY:
Ninth, Nineteenth.
Twenty-Fourth bookcase

| Name | Book Type | Short Description |
| --- | --- | --- |
| Tibiaball (Book) | | Explaining the rules of Tibiaball. |
Twenty-Seventh bookcase

| Name | Book Type | Short Description |
| --- | --- | --- |
| Different Fluids II.I (Book) | | Admonition against drinking beer, especially when hunting. |
Thirty-Sixth bookcase

| Name | Book Type | Short Description |
| --- | --- | --- |
| Strange Mechanisms (Book) | | Discusses methods of using switches to open doors. |
Others